Polar Chengdu
Chengdu
Thursday, April 10, 2008
Yesterday, we were driving south out of Chengdu, looking at signs of this city's explosive growth. Gleaming high-priced high-rises to house the newly rich. A dramatic high-tech center: a football-shaped glass building flanked by two curved orange towers. Stunning new municipal government buildings that are a far cry from grim, old-style socialist architecture. These are angular structures, encased in decorative metal webs.
And then, I saw something that really made me blink: a long turquoise sign surrounding a site still under development, with photos of shaggy polar bears, and the words "Chengdu Polar Ocean World." Chengdu? Polar? Ocean?
I did a quick Google search, and it's true. By next May, Chengdu is slated to boast a polar ocean themed resort -- a $171 million dollar investment -- that will be home to polar bears, penguins, beluga whales, and more. It will be a kind of polar sister to a Polar Ocean World that's drawing crowds in Qingdao, in eastern China.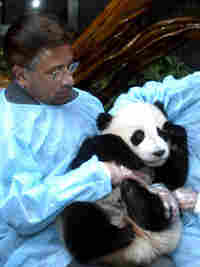 Now, I know that there are polar bears swimming around in unlikely places -- the Central Park Zoo, for example. But I've spent the last week hearing about devastating environmental destruction in China, about constant loss of habitat, about a threatened giant panda population in the wild. Why bring another threatened species to a place where there are so many endangered species already?
But there's money to be made. If you pay $150 at the panda base here in Chengdu, you can hold a baby panda. The staff has qualms about whether this is wise, but it's a huge money-maker, and they rely on the funds.
Threatened polar bears -- threatened panda bears -- I guess they're all fair game in the new China.