May Day, May Day!
OK, I promise this will be my last post about the floral display in Tianfu Square here in Chengdu. I admit I've become a bit obsessed about this technicolor May 1st blooming extravaganza. But it is finally May Day, the start of a three-day weekend in China. And this morning, the bright floral 5/1 was a tempting backdrop for lots of people to take some holiday shots.
I was looking forward to some grandiose, florid - if not floral - official Chinese speechmaking to mark the day in Tianfu Square. Turns out, there was none. May first was simply an occasion for folks from the city to go out to the country, and for country folks to come into the city for some r&r and photo ops.
Also today, I caught up with these three cute schoolgirls walking down the street, each holding a cage with two tiny bunnies inside. May Day presents?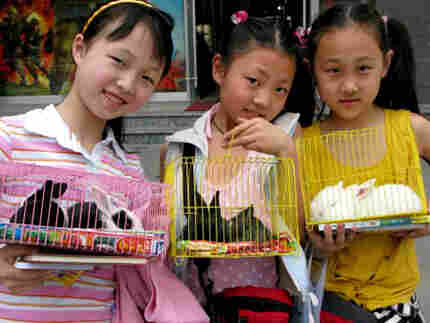 When I spotted a long string of schoolchildren in red vests and caps walking toward Tianfu Square, I followed along in great anticipation. "Terrific!", I thought. "Must be a May Day parade!" But then all the kids piled on to tour buses. Using some pantomime and one of the very few Chinese words I know - dizhen, or earthquake - I was able to figure out that they were going on a field trip to the earthquake zone. They were heading up to Hanwang and Beichuan, some of the most devastated areas, to witness the destruction. The earthquake of last May 12th has become a May 1st adventure.