Pop Music Lags In Dealing With Interracial Love Anxieties : Code Switch Interracial romances have been featured in American popular music for more than a century.
Pop Music Lags In Dealing With Interracial Love Anxieties
Pop Music Lags In Dealing With Interracial Love Anxieties
Pop Music Lags In Dealing With Interracial Love Anxieties
Pop Music Lags In Dealing With Interracial Love Anxieties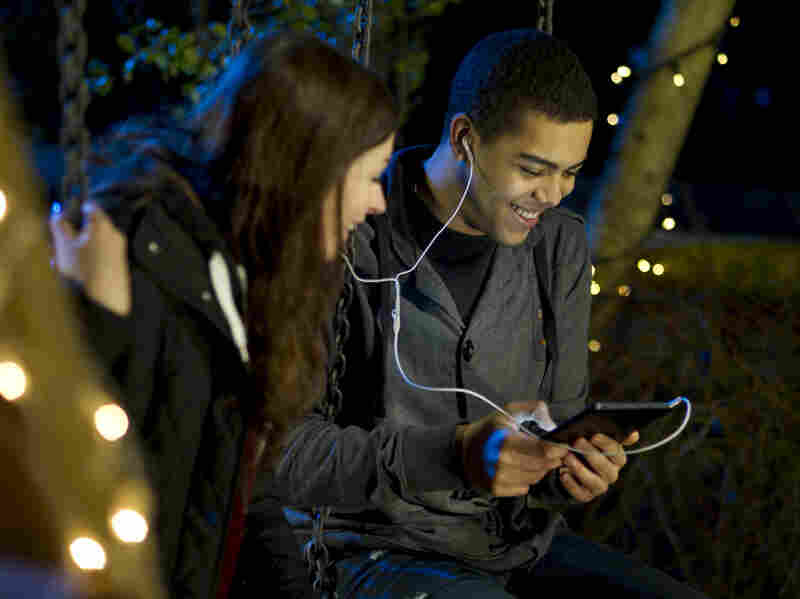 Editor's Note: Code Switch is engaged in a monthlong discussion and exploration of interracial and cross-cultural dating. Follow the conversation via the Twitter hashtag #xculturelove.
It is my humble opinion that most things in life need a soundtrack, and this #xculturelove project was begging for one. So I turned to my Facebook page and asked for song submissions. There were nearly 90 comments — with songs about love across borders and across racial lines, songs with a socially conscious message, songs that fetishized women of color, saccharine-sweet songs about racial harmony.
But so many of the songs that overtly and explicitly talked about interracial romance were pretty old. You don't hear pop stars crooning about miscegenation these days. But, as we know, coupling up across racial and ethnic lines is happening now more than ever. The 2010 census showed that interracial and inter-ethnic married couples grew by nearly 30 percent in 10 years.
So if pop music is a reflection of the issues of the day, why aren't we bobbing our heads and shaking our hips to more songs with lyrics about cross-cultural lovin'? To find out, I called up Jason King, associate professor at the Clive Davis Institute of Recorded Music at New York University, and NPR music critic Ann Powers. (We can call them the ebony and ivory of music critics for the sake of this blog post.)
First off, both King and Powers agree that the reason we're not hearing more pop songs about cross-cultural love is not that we're all totally fine with mixin' it up. Each used the backlash against that Cheerios commercial with the mixed-race family as an example. "Let's be honest," says Powers. "Americans feel more anxious about interracial romance than any other social reality and I think that's been true for the entire history of this country."
Powers says that anxiety and desire across racial lines is one of the fundamental subjects of pop culture in the U.S. "It's a subject that really resonates with American audiences," she says. She points to Creole ballads from the early 19th century written by white men expressing forbidden desires in the voice of Creole women, and to the musicals Showboat, South Pacific and West Side Story.
But things are much more complicated today. The growth of the Latino and Asian-American communities in the U.S. has added a lot of brown to what was once a black/white binary.
King says writing a pop song that delves into the complexities of today's cross-cultural romances is tough to squeeze into a marketable pop song that lasts all of 3 minutes and 45 seconds. "I think the risk now is to be able to render the lyrics in a way that is sophisticated and thoughtful," King says. He says the lyrics need to do more than say "can't we all just have a good time." Audiences expect more than that, he says, and are much more politically correct than decades past.
Powers says pop music is having a very decadent moment, that lyrics today are all about having a good time, not politics. She says the only place to find interracial attraction is in music videos and concert performances, but the visuals represent interracial harmony through sexuality. "That is where pop music is around these issues," says Powers. "It's not being honest about the divisions and oppressions that still exist." But, she says, that could change because like most things, pop music is cyclical.
When I was looking for contemporary pop songs that talked about interracial romance, I found "My Baby," by Auburn. She's a pop and R&B artist in her mid-20s who has found an audience for her music on YouTube. Auburn is African-American but grew up in East St. Paul, Minn., in a neighborhood with a lot of Hmong, Vietnamese and Cambodians. Most of the love interests in her videos are Asian. "You know, that's who I date normally. I'm very attracted to Asian guys; not to say I'm not attracted to white guys or black guys or any other type of guy."
Auburn says she has gotten a lot of grief for her choice in partners, over the years, especially from African-American men. "They'd say, 'Oh, you and this chink,' and they would make fun of him, or they'd make it seem like the relationship was a joke, it just wasn't how it would have been had it been a black guy in my opinion," says Auburn. So, she wrote "My Baby" last year to put her boyfriend's mind at ease and tell the world that it doesn't matter.
In the lyrics to "My Baby," Auburn mentions not being the same color as her Asian boyfriend and not worrying about it — she loves him anyway. It's not a deep song, it's not complex, but it hit a nerve with listeners and she says she got thousands of positive responses from people who could relate. When I asked her why we're not hearing more of these songs, it took her a moment to answer.
"I don't know why more people don't sing about it because there are a lot of interracial relationships, I mean a lot. I don't even like that I have to call them interracial relationships, I just want to call them relationships to be honest. I don't know, I don't know," she frets. "I guess we can't assume that every love song is talking about someone of the same color skin, maybe they are talking about their significant other who is someone of a different color, you know?"
#xculturelove Songs For St. Valentine's Day
A playlist of songs of interracial romance compiled by music critic Jason King for Code Switch.
White Girl — Johnny Cash (1964)

Written by New York folksinger Peter LaFarge, this tune fits into the tragic genre of white men pursuing "impossible" relationships with Native women.

Society's Child — Janis Ian (1965)

Championed by Leonard Bernstein and Shadow Morton among others, this remains one of New Jersey folkie Janis Ian's most popular and endearing songs. Pure doom and darkness.

Black Boys/White Boys — Hair (Musical) (1968)

The first half of this two-party ditty from the Broadway musical Hair is a white female ensemble raving about the glories of dark-skinned men. Then a black female Supremes-style ensemble sings about the glories of men who are melanin-challenged. Notable for the skyrocketing vocals of a young Melba Moore on the second half.

Does Your Mama Know About Me? — Bobby Taylor And The Vancouvers (1968)

Motown journeyman Taylor (famous for discovering the Jackson 5) scored his only Top 30 hit with this post-Summer of Love track.

You And Your Folks, Me And My Folks - Funkadelic (1971)

Is this song about class? Or race? It's been said that race is the way class is lived; and this is a typically smart track from the groundbreaking Maggot Brain.

Irma Jackson — Merle Haggard (1972)

Capitol Records barely wanted to release this interracial tune from the California country rebel, but it wasn't his first: He'd earlier recorded the controversial "Go Home," about his doomed romance with a Mexican woman.

Brother Louie — Hot Chocolate (1974)

Multiracial British funk rock band Hot Chocolate (widely known for "You Sexy Thing") garnered some success with this song, which starts: "She was black as the night / Louie was whiter than white." You can guess where it goes from there.

Back To Africa — The Dictators (1975)

Vying for the award for most jaw-dropping of interracial-attraction-themed pop songs, the early punk rock band delivered this tune about a white man's love for an African girl living in the U.S. who gets radicalized and then wants to return to her continent. It's on the same album as a song called Master Race Rock. Yep.

Island Girl — Elton John (1975)

Not necessarily a fan of the faux Caribbean music track, but the lyrics are about a New York prostitute contemplating — or expected — to return to her native Jamaica and caught up in "a white man's world." Not exactly progressive, but still slightly risque for its time, and it went to No. 1 on the charts.

China Girl — David Bowie (1982)

Written by Iggy Pop and Bowie, this favorite from Let's Dance happens to be classically Orientalist in terms of both lyrics and music. The video tries to be critical of racism, but I'm not convinced it fares much better.

Ebony And Ivory — Stevie Wonder (1982)

Profound Stevie at his most cringeworthy and cliched, but then black R&B artists often went soggy when duetting with Paul McCartney (ahem, Michael Jackson). Sure it's got a memorable melody and a sentimental "can't we all get along" lyric, but sweep this one under the rug when praising the genius of Stevie or Paul.

Original Sin — INXS (1987)

The Australian rockers entered the fray of interracial-attraction songs with this tragic doomed-romance tale: "Dream on white boy / dream on black girl" goes the chorus.

Pollywannacracka — Public Enemy (1990)

From the powerful Fear of a Black Planet album, this is a stinging critique of explicit and internalized racism from the most avant-garde and profound band of hip-hop's golden age.

Jungle Fever — Stevie Wonder (1991)

From the soundtrack of the Spike Lee movie of the same name, and next to "Ebony and Ivory," this is Stevie Wonder's other big-time cringey song in his otherwise formidable catalog. The main problem is the lyric is just too literal.

Black Or White — Michael Jackson (1991)

The lead single from Michael Jackson's underrated Dangerous, this rock ditty got almost too much play on radio and MTV in its day — but the lyric is fun and the video, with its diversity of morphing faces, is still groundbreaking.

I Believe — Blessid Union of Souls (1995)

Their first hit single, "I Believe," is earnest social protest: They go there in the third verse with the N-word.

Black Chick, White Guy — Kid Rock (1996)

Kid Rock penned this supposedly true biographical story about interracial romance — in his personal life, he's father to a son of color. But he's been in trouble in the past with civil rights groups for his use of the Confederate flag onstage.

Clear Blue Skies — Juggaknots (2002)

New York hip-hop group delivered this doomed-love entry about an acrimonious argument between a white father and son about the son's black girlfriend.

Long Way to Go — Gwen Stefani (2004)

Famous for the lyric: "What if Picasso only used one color / There shouldn't be a rule how to choose your lover."

Don't Matter — Akon (2006)

Sengalese-U.S. pop singer Akon penned this universalist Romeo and Juliet-style track about lovers who are kept apart by social forces. You can read between the lines.