Want To See The World? Try A Library In Queens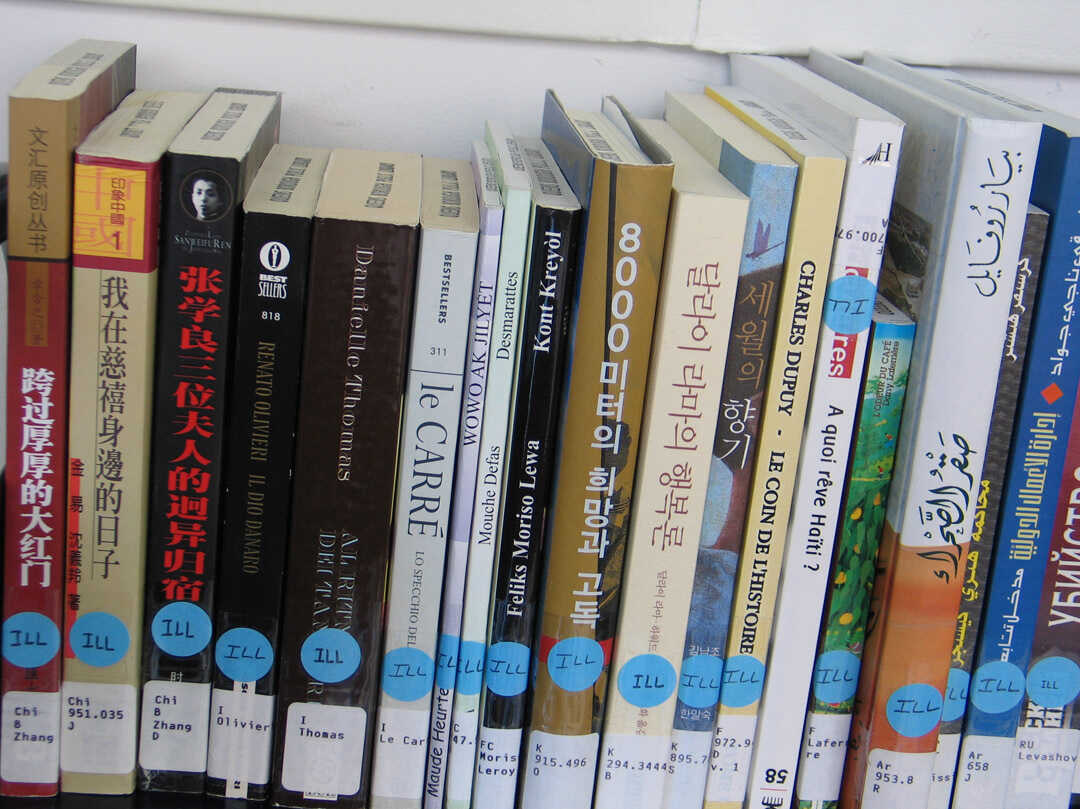 Courtesy of Queens Library
The aggressive vibrato of the bandoneon hung in the air. While the tango singer spoke of romantic spats, hopeless drunkards and lonely whores, an elderly Argentine couple clasped hands.
The haunting music would have made for a steamy evening if not for the setting. The celebration of Argentine tango took place not in some hip Latin club on the Lower East Side or in a dark corner of a Buenos Aires cafe, but in a drab basement room with plastic chairs and gray walls in the Jackson Heights branch of the Queens Library.
New York's Queens borough is among the most ethnically diverse counties in the nation, its immigrant-filled neighborhoods teeming with taco joints, Dominican beauty salons and women in headscarves. It's no surprise, then, that the borough's library system has also strived for unparalleled diversity.
The library system's 62 locations boast more than 800,000 foreign language books, thousands of foreign language DVDs and CDs, and six language specialists tasked with finding the most popular materials in Urdu, Polish, Arabic, Portuguese, Bengali, Russian, French and Spanish, among other languages. It also regularly hosts cultural events, such as the tango performance in Jackson Heights, to draw in immigrants unaware of how libraries or library cards work — or at least how they work in Queens.
Chinese romance novels are always popular, as is the Korean version of Twilight. The library system also caters to Albanians, Croatians and Serbians in Ridgewood, Tagalog speakers in Elmhurst, Woodside and Broadway, Farsi in Kew Garden Hills, and Pashto and Dari in Flushing.
"We are the most diverse borough, and we want to celebrate that," said Bridget Quinn-Carey, the library's COO.
Nearly half of all Queens' residents were foreign-born in 2010, according to U.S. census data, with most hailing from Latin American and Asian nations. Among New York City's five boroughs, Queens has the highest number of residents who consider themselves as speaking English less than "very well," at 28 percent. Of those, 42 percent speak Spanish and 31 percent speak an Asian or Pacific Island language.
The library launched its New Americans Program in 1977 to provide services to the area's many immigrants. The staff's most significant challenge, apart from budget limitations and figuring out how to catalog book titles that don't use the Roman alphabet, is keeping up with the breakneck pace of New York real estate trends and demographic shifts. Employees rely on neighborhood clues including ethnic newspapers and produce sold at corner bodegas to keep library shelves stocked with the most useful material.
A decade ago, the library's Corona location demanded materials catering to Dominicans and Italians. Now, the neighborhood is primarily Mexican and Ecuadorean, said Vilma Daza, the Corona library manager. A dedicated following arrives at the library each day to read foreign-language newspapers, including the popular Thikana, a Bangla newspaper circulated in New York.
The library also offers citizenship and basic skills classes designed to help people assimilate more easily.
"It's very important because all those kids are growing up over here, so we need to have better communities, we need to enrich their lives, we need to make changes so this community will be successful tomorrow," Daza said.
Once an immigrant group reaches a mere 2,000 people, the library will attempt to offer services pertinent to that culture. International crises often spur the need for new library material. For example, the system's collection of Haitian Creole books grew to more than 5,000 titles after Haiti's devastating 2010 earthquake.
Of all the languages the system offers, one is particularly in demand among foreign-born library patrons. On a recent registration day, more than 100 people lined up starting at 5 a.m. to nab one of 30 classroom slots available in Corona. Thousands of other immigrants flocked to similar classes across the Queens Library system in 2013.
The language they were all so eager to learn? English.