Which Outlets Aren't Calling The Redskins 'The Redskins'? A Short History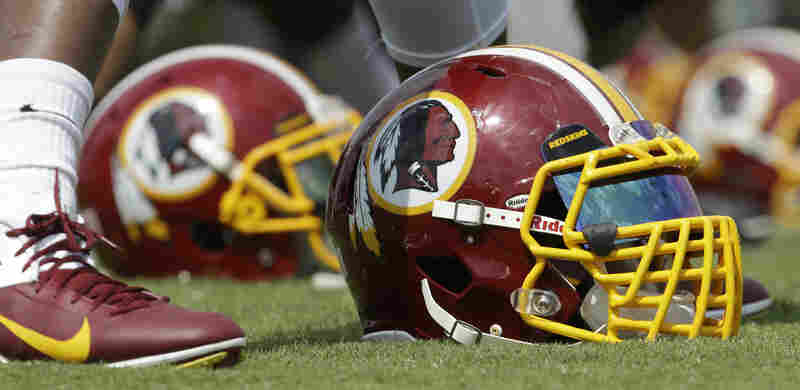 Football season is upon us once more, which means another year of swirling debate around just what to do about the Washington Redskins' name.
Now, the Redskins' hometown paper, The Washington Post, has waded into the fray: Its editorial board announced Friday that the nickname would no longer appear on its op-ed pages.
"[T]he matter seems clearer to us now than ever, and while we wait for the National Football League to catch up with thoughtful opinion and common decency, we have decided that, except when it is essential for clarity or effect, we will no longer use the slur ourselves."
An October 2013 study from Pew Research found that at least 76 outlets and journalists have moved to limit or ban the use of the team's name — a number that has obviously ticked up since then. (For the record, NPR's official policy is to use the team's name when reporting on it. But since the Redskins aren't very good and we don't do a ton of sports reporting anyway, we don't have a whole lot of opportunities to use or not use the name.)
While these bans have been getting a lot of attention in the past year or so, it's a stance that many media organizations and journalists have held since the early 1990s. Here's a brief rundown of who has opted out of saying the team's name, and how those policies have fared.
Many outlets that don't have any official, company-wide policies against the use of the team's name still give a lot of discretion to their journalists to do as they see fit. Here's an incomplete list of high-profile sports media folks who've dropped the name:
On the other side of the argument, ESPN's Rick Reilly defended the team name last September, and he cited his Native American father-in-law's supposedly what's-the-big-deal stance on the issue. The next day his father-in-law wrote in Indian Country Today that Reilly misquoted him and that he thought the team's name was racist and should be changed. (Those should be some fun holiday dinners, right?)
It seems like opinion on this issue might be moving among the general public, albeit slowly: in 1992, 89 percent of respondents in one poll favored keeping the team's name. A poll from January found that 71 percent of people didn't think the name should be changed, and a different poll from last month found that 65 percent of Washington area residents felt that way.
But despite all this consternation, Dan Snyder, the team's polarizing owner, has doubled down. "We'll never change the name of the team," he told USA Today earlier this summer. "It's that simple."