The Butterfly Effects Of Ferguson
It was two years ago this week that a police officer shot and killed Michael Brown in Ferguson, Mo., in a case that became an inflection point in the way Americans talk about race and policing.
During protests in Ferguson, the larger movement described as Black Lives Matter metamorphosed from a Twitter hashtag into a discrete political project. And you could still plainly hear the echoes of Ferguson this summer, following the fatal shootings of Alton Sterling in Baton Rouge and Philando Castile in suburban Minneapolis, and in the fatal shootings of police officers in Dallas and Baton Rouge.
Ferguson was baked into the not-quite-subtext of the "law and order" rhetoric at the Republican National Convention, and in the "systemic inequality" speeches that marked the Democratic convention a week later. The post-Ferguson scrutiny of police use of force — around which there is surprisingly little comprehensive information — is part of what led the FBI to announce on Monday that it plans to create the first federal database on arrest-related fatalities.
We wanted to look at two important ways that Ferguson has changed the dynamics and tenor of the conversation for race and policing.
How Ferguson sped up the media timeline around police violence
It's worth remembering that Ferguson would have been unlikely to become a national news story had it happened just a few years prior. It took place in a small, relatively quiet suburb far away from a major media center, and its grim details were hardly novel. (As my colleague Kat Chow noted in the summer of 2014, it wasn't even the first such incident in St. Louis County's recent history to spark local unrest.)
But the media ecosystem was already undergoing some important changes in the wake of the 2012 shooting of Trayvon Martin shooting in Sanford, Florida. The circumstances in the Martin case were different in some important ways — the Martin case did not involve a police encounter, for one — but it did establish a rough media trajectory that Ferguson would come to most fully, efficiently embody.
Sarah Jackson, a professor at Northeastern University who studies political movements, explained the cycle to me this way in 2014: first, people who knew the victim or witnessed the fatal encounter turn that victim's name into a hashtag. Then the story spreads to local activists and news outlets. Finally, the story lands on the radars of national news organizations. In some of the more high-profile cases, the Justice Department might eventually launch a civil rights investigation of the local police department.
The deaths of John Crawford, Tamir Rice, Sandra Bland and Freddie Gray all followed Ferguson, and became major news stories in much the same way. But it was during Ferguson that activists, news consumers and news producers seemed to begin to implicitly understand this cycle and their roles in it.
Meredith Clark is a University of North Texas journalism professor who scoured Twitter data to map out the ways the Ferguson story spread on that platform. She told me that — in the months when prosecutors weighed whether to indict the officer in the shooting of Michael Brown — there was noticeably, measurably increased interaction between what would otherwise have been distinct pockets of Twitter.
"You definitely see the conversation start to cross between young black activists and national news media figures," Clark said, adding that reporters from national outlets were paying more attention to the Twitter conversations about Ferguson. So were hubs of politically conservative Twitter users, who were aiming to challenge the activist narratives of the stories.
In effect, the Ferguson story changed the media ecosystem that gave it life; there was progressively less social distance between the groups interested in stories of police violence, which they were all discussing with more frequency and intensity.
And so, with each subsequent story, the media trajectory — from social media conversation to national news — moved more quickly than before. Consider that the Trayvon Martin shooting churned for weeks on social media and in the Florida news before it gained traction with national outlets. When Michael Brown was killed in Ferguson more than two years later, the story went from trending on Twitter to being covered by major national outlets in a matter of days.
When Philando Castile was killed on July 6, his death became a national news story almost immediately as his partner Diamond Reynolds — who was just feet from when he was shot — live-streamed the immediate aftermath of the incident on Facebook for tens of thousands of people.
CNN was airing Reynolds's footage within a few hours, and by the next morning, and the Justice Department announced that it would be closely following the investigations into the encounter. The media timeline had collapsed so much that it was impossible to tell whether the hashtags about Castile were leading the news, or if it was the other way around.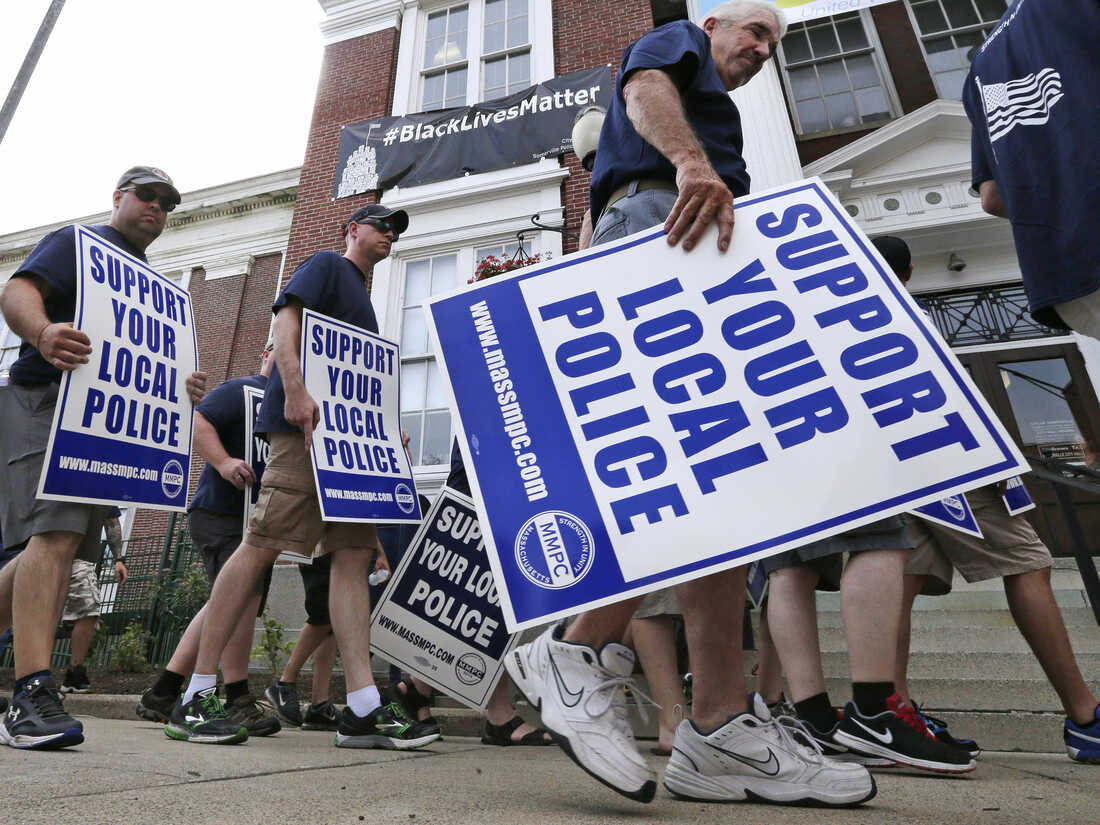 'The Ferguson Effect' on policing
Earlier this year, FBI Director James Comey said all the stories — and viral videos — of questionable police killings of civilians were prompting a wave of what criminologists call "de-policing" — that is, police officers refraining from doing their jobs out of an excess of caution or low morale. Comey attributed a spike in violent crime in cities to this "Ferguson Effect."
"There's a perception that police are less likely to do the marginal additional policing that suppresses crime — the getting out of your car at 2 in the morning and saying to a group of guys, 'Hey, what are you doing here?'" Comey said. (It's important to note that violent crime has been steadily falling across the country since the 1990s.)
So far, the evidence of such a Ferguson Effect has been mostly anecdotal. Earlier this summer, David Pyrooz, a criminologist at the University of Colorado at Boulder, published a paper in the Journal of Criminal Justice that was the largest study to date that tried to measure the existence, if any, of the "Ferguson Effect" on crime rates.
In the study, Pyrooz and three other researchers looked at crime statistics from 81 of the 102 cities in the U.S. with populations over 200,000, since the largest cities tend to have an outsize effect on crime numbers. They used Aug. 9, 2014 — the day Michael Brown was shot — as a point of demarcation: Did crime go up in those cities after that date?
What the researchers found was a fascinatingly mixed bag. "On the whole, there is no nationwide Ferguson Effect on crime rates," they concluded. In most cities, the overall crime rate kept falling in the 12 months that followed Michael Brown's shooting. But the researchers did find a post-Ferguson increase in robberies in the 81 cities they studied.
"A lot of times, nuance doesn't work really well for headlines," Pyrooz told me. "The gist of the findings was that on average, there was no effect. But there are a couple cities where ... you have seen significant shifts in crime rates for those cities, so there was a lot of fuel for the fire for both the detractors as well as for those who were contending that there was indeed an effect."
Homicide rates are the most reliable statistical of violent crime, because while crimes like assaults and robberies might not be reported to the police, "bodies get counted," as Pyrooz put it. And the researchers did find a pronounced, post-Ferguson spike in homicides in several large cities — Newark, N.J.; New Orleans; Milwaukee; Washington, D.C.; and Rochester, N.Y. The two places where the jump in killings was starkest? St. Louis, near where Michael Brown was killed in Ferguson, and in Baltimore, the site of protests and unrest following the death of Freddie Gray in the spring of 2015. Maybe a coincidence. Maybe not.
From 'Here & Now'
After 9 High-Profile Police-Involved Deaths Of African-Americans, What Happened To The Officers?
After 9 High-Profile Police-Involved Deaths Of African-Americans, What Happened To The Officers?
Two Years After Michael Brown Shooting, St. Louis DJ Boogie D Looks At Ferguson Today
Two Years After Michael Brown Shooting, St. Louis DJ Boogie D Looks At Ferguson Today
But, here, too, Pyrooz and his colleagues issued some big caveats: the cities that saw crime go up after Ferguson also tended to have higher crime rates before Ferguson, even though crime in those places was reaching historically low levels, in keeping with a general national trend in crime. Pyrooz said their post-Ferguson crime spikes could suggest that they were "regressing to the mean" after years of steady crime declines — and crime ticked up in those places as a kind of statistical overcorrection.
What's more, Pyrooz said the numbers can't really tell us whether that spike in homicides in those cities was the result of de-policing. And the researchers noted, looking at smaller cities — like the one for which the "Ferguson Effect" is named — might still tell a different story.
"I'm not saying there's nothing," Pyrooz said. "There could be Ferguson effects — not just on crime, but there could be other outcomes. In studying things like de-policing and studying things like legitimacy crises are equally, if not more, important. But as criminologists, we want to know what affects the crime rate. But so far we're not just seeing that type of play."