Shereen's Sparkly Gold : Daydreaming Day to Day producer Shereen Meraji searches Riverside's pawn shops for gold parties--as well as the door-knocker earrings she's always wanted.
Shereen's Sparkly Gold
I'm Shereen Meraji and I'm producing our California Dreaming series. In case you were wondering, when you're a radio producer you do just about everything: find stories, research, interview lots of people who never make it into the actual stories you found, drive, take dictation, edit audio, bring the hosts coffee and light reading.
(All of that is true, except for the coffee part. GET YOUR OWN COFFEE, MADELEINE!)
A bit about me. I'm a California native: born in Fresno, raised in Sacramento, educated in San Francisco and I live in Los Angeles. I've been with Day to Day from the beginning, the very first broadcast from right here in our Culver City studios.
Madeleine already told you why we chose California as a backdrop for this series and now you know why I'm the producer. "From Oakland to Sactown / the Bay Area and backdown / Cali's where I put my MACK down / GIVE ME LOVE!" (An NPR car window sticker goes to the first reader to tell me where that's from, no googling.)
Now let's talk gold.
I think it's pretty obvious why we decided to go with gold for our first story. The Golden State has been Cali's official nickname since 1968, gold was discovered here more than a century before that, and the golden poppy is our state flower. On a personal note, because I'm half Puerto Rican and half Iranian, it's in my genetic make-up to buy lots of tacky gold accessories-- thanks mom and dad. So gold is something very close to my heart.
Research for this story started in my cubicle. We knew that gold prices were high...about 900 an ounce (depending on the day), and I had heard that people were starting to throw "gold parties." Gold parties are like old fashioned Tupperware parties where a host invites all their friends over and tells them to bring their unwanted gold to sell. A gold dealer comes to test and weigh the jewelry and everyone chomps on cheese and crackers (or carrot sticks and ranch?) while they wait to see how much their gold is worth, cash on the spot.
People are cash strapped right now in the Golden State because of gas prices, rising mortgages and high unemployment, so I set out to find a gold party. On my quest, which involved cold calling people from my cubicle, I came across Joseph Shamir, the gold buyer profiled in our story.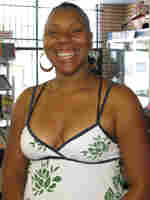 Joe didn't have a gold party scheduled in time for our broadcast, but he had an incredible story -- he was in the real estate loan business and when his business collapsed late last year, he was desperate for money. Joe sold more than $40,000 of his wife's jewelry and in the process realized that real estate was the wrong business. Now he owns a tiny shop called "Joe's Gold and Silver," where he buys peoples gold, silver and platinum and sells it for scrap.
And then Madeleine suggested pawn shops. (Thanks a lot, Madeleine!) I was hung up on more than a dozen times while trying to find a pawn shop owner willing to talk to me. I was even accused of being a telemarketer, and was hung up on.
I finally found a shop in Riverside, California, where the owner graciously gave us a tour and let us talk with his customers.
We met Linda Gray.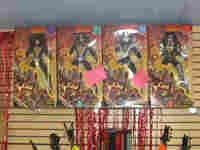 Linda was paying the interest on the gold jewelry her mom pawned to pay her Adjustable Rate Mortgage, which jumped from $1500 to $2400 dollars. She told us that she had pawned the gold necklace she was wearing a few times, to pay some of her own bills.
In the end, Madeleine and I agreed that the best thing about the pawn shop was the complete set of collector's edition KISS dolls on sale. I know they have nothing to do with gold, but they were priceless!