Down and Out in Fresno
--Phillip WD Martin
As we learned during Phillip Martin's segment today on the California Dream, the least developed region in the U.S. isn't in Appalachia or the Mississippi Delta, it's in California's Central Valley. Phillip went to Fresno, County in the heart of the Central Valley, and to Manhattan's Upper East Side -- the nation's most developed area -- to compare and contrast.
It was 115 degrees when the United Airlines jet landed in Fresno under a brilliant mid-day sun. Once outside the terminal I was greeted by a blast of desert air and a Punjabi taxi driver who explained why he moved to this city of 500,000. Farming. That one word explains why communities representing eighty different ethnic groups have come to call Fresno home. This is America's bread-basket, and it requires all levels of work to get fresh fruits and vegetables from the ground to the marketplace. Farming also helps explain why Fresno County ranks dead last on the American Human Development Index, which measures aggregate health, education, income, longevity and other indicators on a congressional district by district basis.
Pesticides, air quality and back-bending labor mean that people in Fresno die on average four-and-a-half years earlier than folks at the top end of the index. Farming is seasonal, and when the planting is good, farm workers can scratch out a living--barely. When it's bad--as it is now with a drought that has reduced water output by forty percent--it can be disastrous. I held a tomato in my hand that was as dry as a deflated beach ball.
For 39-year old Felipe Jesus Perez, California has been both a dream, and lately, a six-year continuum of restless nights. He lost his job in the fields in 2003 after his foot and tendons were crushed in a cotton harvester. He gets around the town of Firebaugh in Fresno, County these days with a cane. With a smile on his face he told me he's willing and ready to work.
Felipe Perez: I get my diploma in auto mechanics and I did some applications for different kind of job, but they watch me with a cane and tell me 'let me call you later' and they never call me. And I stay in the same place with the same money, with the workers comp that they're paying me.
Phillip Martin: And you say you're recieving Workman's Compensation?
Felipe Perez: Yeah that's right.
Phillip Martin: Any other compensation?
Felipe Perez: No just that.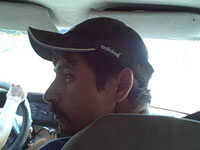 Felipe joins the ranks of almost 30 percent of the population of the County who are jobless and depend on seasonal agricultural employment.
Before flying West to Fresno I was on the New York City's Upper East Side interviewing residents there about lifestyles, concerns and worries. The economic disparities highlighted in the new American Human Development report were brutally sharp on the ground when comparing this neighborhood to Fresno. Melissa Morris, an amiable and prolific blogger, gave me a tour of her Carnegie Hill neighborhood on the Upper-East-Side, which the American Human Development Index lists as the number one district in the country in terms of human development.
Melissa Morris: Well there's a lot of little fashion boutiques for women. There's a lot of upscale children's clothing boutiques. There are fancy sort of dog grooming salons for my dog, and gourmet food shops. Just being a home cook for many years I know what's in season in terms of fruits and vegetables and I try to buy those.
28 year-old Morris--whose popular blog might best be described as the "lifestyles of the rich and preppy"--lives with her multimillionaire husband Chappy and a miniature Italian greyhound named Monty. If human development is predicated on opportunities and choices to improve one's life, than the upper east side of New York is a showcase of privilege. "The sidewalks are very clean," Melissa explains. "They're kept clean largely by the doormen who will be out there sweeping if there's trash strewn about."
Jose Bermudez has been opening doors at thehigh rise apartment building where Melissa resides for more than 15 years. He says it's no mystery why Upper East Side residents live relatively longer lives than people on the bottom half of the American human development scale: "People are relaxed and down to earth. I guess it's the lifestyle."
According to the American Human Development Index, half of the residents of Fresno, County earn less than 17 thousand dollars a year. Upper East Side residents on average earn about 116,000 dollars. Many, like the Morris's, bring in much, much more. Melissa and her husband, like many residents of the Upper East Side, also own a large, spacious second home in Connecticut. But money is not the only resource that makes life here so comfortable. There's also easy access to world class museums, well stocked libraries and a sea of other amenities. The gulf between Melissa and Felipe' most pressing worry when I spoke to them is about as wide as the continent that divides them:
"Currently right now I'm worried about my little dog with his broken leg," says Melissa. "This has been an ongoing series of injuries with him and he's very fragile. I love him very much, so I'm worried about him making a full recovery."
For Felipe, the worries are bit different: "I'm worried that I have three kids, my wife and I don't have a job we don't find any kind of job for my wife. She is doing some applications in different kind of jobs and nobody call her."
You can take a more comprehensive look at the American Human Development Index here and here.
--Phillip WD Martin (You can visit Phillip's blog here.)