What Car Show Goers REALLY Want to See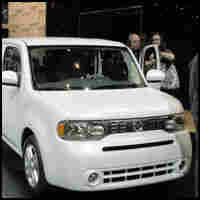 The LA Auto Show opens today. Yesterday, Madeleine and I took in a preview. We aired a story about it on today's show.
We sat in a gianormous Cadillac Escalade Hybrid, and in a cute little Nissan Cube.
We saw a lot of other cars, of course. There were all-electric vehicles, clean diesels, cars that run on ethanol and natural gas and even some cool electric bicycles. Some cars looked like the future. Others were very much of the past.
But down in the basement, where the "after-market" people show off their wares, we got a look at a completely ridiculous but oh-what-fun show car that was part of the display of stuff being shown by Galpin Auto Sports.
They are, among other things, the folks that do the cars for MTV's Pimp My Ride.
There was no one around to tell us WHAT this thing was. Here's what we could deduce. It's very blue. It has fur. And it features a vintage portable television below the dash.
It's not environmentally friendly. We don't even know if it actually runs. But really, this is exactly the kind of thing that the kid in all of us actually wants to see when we go to a car show.