Recipes, From A 5 Year-old Chef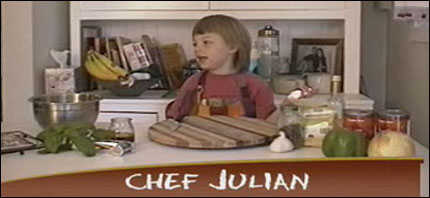 On the show today we talked to Chef Julian, who is, we have to figure, the world's youngest celebrity chef.
As promised, a couple of Julian's recipes. Enjoy!
Chef Julian's Chocolate Chip Zucchini Bread
2 teaspoons vanilla
1 cup molasses
1/2 cup oil
2 eggs
2 cups grated zucchini
1 1/2 cups flour
1 cup sugar
1/2 teaspoon baking soda
1/2 teaspoon baking powder
1/2 teaspoon cinnamon
1 cup chocolate chips
Mix wet ingredients and dry ingredients separately, then mix the two together. Bake at 350 for 30 minutes or until done.
Chef Julian's "Persinnamon" Smoothie
Ice
3 ripe persimmons
1 tablespoon cinnamon
Blend all ingredients in a blender.
And here's a little of the junior chef in action: