Here's the story of a lovely listener...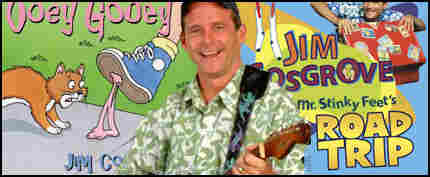 Sometimes listeners send us commentaries. Often they are far too long, too obscure, inappropriate or just not very interesting.
So it was with surprise and delight that I read a little something that came in from a Kansas City listener named Jim Cosgrove.
He sent in a personal essay about Florence Henderson, AKA Carol Brady. Henderson turns 75 on Valentine's Day.
Jim is the father of two young children, and he wrote about his amazement watching his kids take to the Brady Bunch. We're airing his commentary today.
But it turns out Jim Cosgrove also has an AKA. He's a children's entertainer known as Mr. Stinky Feet.

Jim has released several albums, he tours, and he's even played The White House.
Here's a bit of Mr. Stinky Feet, in performance: