Discovering A Composer In The Desert And Mercy At A Monastery
Discovering A Composer In The Desert And Mercy At A Monastery
Media no longer available
My introduction to composer Robert Kyr was a result of foolishness and grace. I didn't know anything about him or his luminous music before New Year's Eve 2008.
On that fateful day, my friend Bill and I were spending the holidays with our families in northern New Mexico. We decided to drive out and visit the Monastery of Christ in the Desert, a community of Benedictine monks who live in a starkly beautiful, remote location near the town of Abiquiu, about an hour and a half's drive northwest of Santa Fe. They pass their days in manual labor, study, prayer and contemplation.
Like dumb flatland Texans, we pulled off the highway and headed down a 13-mile winding, hilly, unpaved road in a Toyota minivan without chains on the tires.
The road started out deceptively easy to navigate, but as we drove farther, driving conditions deteriorated. The snow deepened. The road narrowed. The shoulder disappeared. A mile short of our destination, the van slid off the road and sunk into a snow bank.
We were stuck. And we were stupid.
I was wearing socks and sandals; Bill had on a hoodie. The sun was setting and the temperature was dropping below freezing. We hiked to the monastery — my toes nearly frostbit — figuring the brothers would have a spiffy, four-wheel-drive Jeep and tow chain to pull us out, and soon we'd be on our way back to our New Year's Eve party for an evening of steaks, tequila and merriment. It didn't turn out that way.
After a shivery mile, we entered the monastery grounds and tried to question the first figure we met — a monk in a black habit. When I tried to explain our predicament, he put his finger to his mouth (shhhh) and hurried away. We wandered over to the guesthouse and met an intense, kindly man in a knit cap, down jacket and hiking boots who gave his name as Robert Kyr. He told us he was staying at the monastery composing music, which didn't really register with me at the time. After making a sat-phone call to the closest city, Espanola, Kyr reported that the wrecker driver wouldn't venture out to get us on New Year's Eve. We were stuck for the night.
So Kyr introduced us to Brother John, the "guestmaster" -– the monk appointed by the abbot to deal with visitors. (Brother John, a wry Englishman, at one point in our unplanned sojourn smiled at us benevolently and said, "Bless you and damn you.") He saw to it that we had two places at the long tables where guests eat in silence with the brothers, and he secured two simple rooms for us in the guesthouse. Bill and I used the sat-phone to call our wives and tell them we wouldn't be back to toast in the new year as planned.

A New Year's Eve To Remember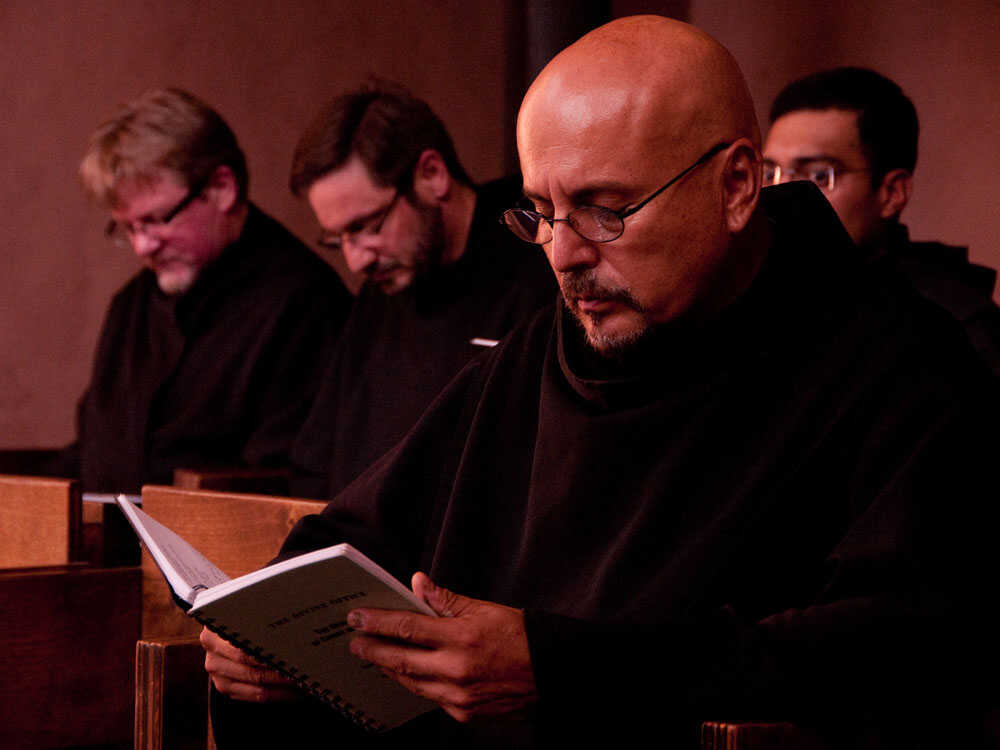 After dinner, we followed Kyr and a half-dozen other guests into the small octagonal, adobe chapel. As a wood stove roared, candles flickered and incense smoldered, the brothers chanted Latin liturgy during the final hours of 2008. Outside in the frigid air, the starlight illuminated the walls of the great, brooding Chama River canyon.
After the service, we hiked in the snow down to the guesthouse — my sandaled feet nearly numb — and stayed up with Kyr until the wee hours, talking by lantern light about war and peace and music and religion. It was, without a doubt, the greatest New Year's Eve we had ever experienced.
Fast forward to October 2009, when Kyr invited Bill and me to hear one of his compositions performed in Austin by the Grammy-nominated chamber chorus, Conspirare. Inside the soaring nave of a Catholic church, they sang his new environmental oratorio, A Time for Life, which was so beautiful that it moved me to tears. When Kyr returned to Austin early last summer, I asked him, over breakfast, if I could accompany him to the monastery and do a radio story about how he creates music.
None of this would have happened if we hadn't set off into the high desert totally unprepared for winter weather. Initially, we cursed our foolishness. Then we counted our blessings. There is a lesson for life there somewhere.
(In a future post, John Burnett describes his recent visit with Kyr, who was composing music at the monastery this past summer.)