5 Best American Contemporary Classical Albums Of 2010
It's remarkable to watch the evolution of contemporary music through a radio station's music library. Like an entomologist collecting varieties of moths or butterflies, we collect every stylistic trend imaginable, often running out of space and time to listen. Another evolution has taken place in the music business, with more indie labels and self-produced (and high-quality) discs reminding us of the corner mom-and-pop bakery and its hand-crafted delicacies.
Each label represented here has made a commitment to new music, regardless of budget size, and for that we're all the better. So if there's a theme to this list, besides representing contemporary classical music, it's that together, these five discs serve as a snapshot of American music and the healthy environment in which it thrives.
Daniel Gilliam is the program director for Classical Minnesota Public Radio.
5 Best American Contemporary Classical Releases
Piano Trio No. 4: I. Morning
Daron Hagen: Complete Piano Trios
Song: Piano Trio No. 4: I. Morning
by Finisterra Piano Trio
It's been a big year for Daron Hagen. His opera Amelia was premiered by the Seattle Opera, and then there's this Naxos release of his piano trios. The trios represent two periods: the 1980s (Nos. 1 & 2) and the 2000s (Nos. 3 & 4). This separation provides a broad perspective on Hagen's voice, and reflects his fluency in many musical dialects. He convincingly moves between the tonally sublime and biting angularity. The Finisterra Piano Trio, with its prowess and finesse, deserves every second of your attention.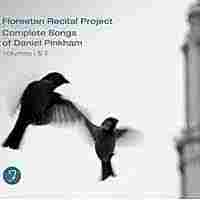 Stars, I Have Seen Them Fall
Complete Songs Of Daniel Pinkham, Vol. 1
Song: Stars, I Have Seen Them Fall
by Florestan Recital Project
Florestan Recital Project's Complete Songs of Daniel Pinkham represents the first exhaustive recordings of the composer's songs, and 2010 saw the release of volumes 1 and 2. The first disc gives us songs for voice and piano or guitar, and the second disc for voice and organ. If we've learned anything from Pinkham's settings, it's that his oeuvre should receive attention and respect within the pantheon of American song composers. Florestan's performances give due credit and more, with beautiful diction and assured interpretation. (Purchase the music here.)
Concerto For Violin And Orchestra: Eighth Note = 46
George Walker: Great American Orchestral Music, Vol. 2
Song: Concerto For Violin And Orchestra: Eighth Note = 46
by Sinfonia Varsovia
In a time when American orchestral music seems dominated by color and texture, George Walker reminds us of the value in shape and direction.  Sure, Walker's music is colorful and rich, but that's not the point. It's a means to an end, with the end being a cohesive narrative. His Concerto for Violin and Orchestra, played eloquently by his older son, is coarse but lyrical. The final work on the disc, Pageant and Proclamation, is triumphant, and Ian Hobson and Sinfonia Varsovia provide a gorgeous palette of color for Walker's score.
Luminous Spirals: Chamber Music of Chinary Ung
Song: Child Song
by Da Capo Chamber Players
Chinary Ung's work of 20 years is collected in the most recent recording on the Bridge label with the Da Capo Chamber Players. Child Song, from 1985, was Ung's first composition after the decade he'd spent working to preserve music from his native Cambodia. He did so by internalizing its performance aesthetic. The five works represented here encapsulate that process and tell us about Cambodian music without drawing attention to the composer or his "fusion" of Eastern and Western influences. All the musicians on the disc have a superb command of Ung's techniques and address the riskiest gestures with conviction.
Cane: IV. Natchitoches To New York
Terra Incognita
Song: Cane: IV. Natchitoches To New York
by Imani Winds
My suggestions, thus far, have focused on composers rather than ensembles. With Imani Winds' 2010 release, Terre Incognita, three jazz composers are presented: Jason Moran, Wayne Shorter and Paquito D'Rivera. If there's one thing we learn from this disc, it's that composers are composers. The stylistic definitions of a "jazz" or "classical" composer are pointless here -- it's just good music. Imani Winds' members have earned a reputation for expanding the recorded wind-quintet repertoire, but in a way that's culturally significant.