Crayons, Jam Sessions And Duck Quacks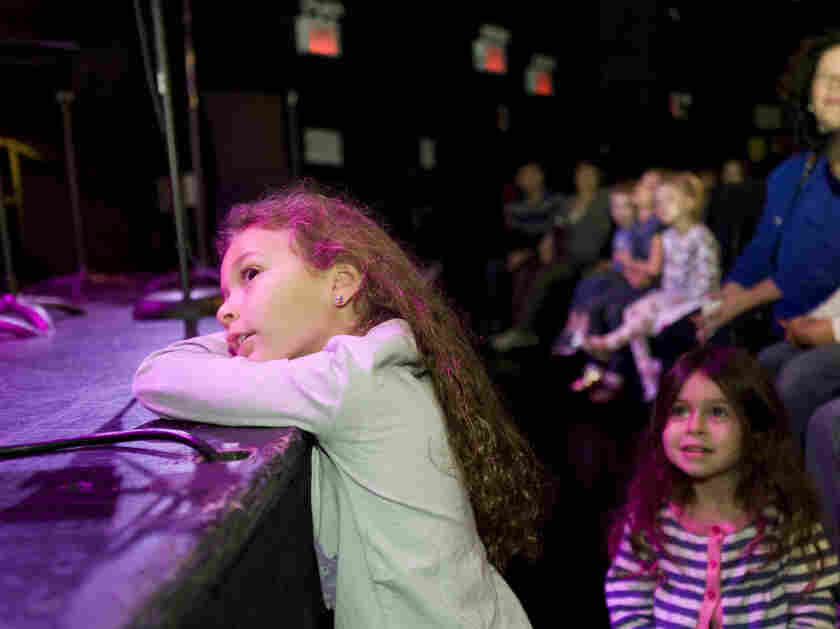 Ali Winberry/courtesy of Baby Got Bach
Noted pianist Orli Shaham launched the daytime "Baby Got Bach" family concert series at New York's downtown music mecca (Le) Poisson Rouge last September. Connecting smaller kids with classical music, she says, is all about encouraging active listening.
As a concert pianist and mother of 3-year-old twin boys, people ask me all the time, "How do I introduce my child or grandchild to music?" My short answer is always the same: "It's about exposure and sharing your enthusiasm, gently." Kids get just as excited about music as you do (probably even more so — have you noticed how much more excited young kids get about pretty much anything?), so it's just a question of making sure they know it's out there for them, and that you are passionate about it.
I believe music, like any other language, is best learned in the preschool years. That's one of the reasons I launched my new concert series for kids, "Baby Got Bach." Those precious years, when the mind is so open, are a perfect time to show your kids what's possible in music. This is also a great time to teach the art of listening, as kids are already learning new skills all the time. Of course, it's never too late, and I think the early elementary school years also offer an excellent opportunity to help kids develop a lifelong love.
I don't believe in dumbing down the music for kids, or in introducing so many visual elements (ostensibly to capture their attention) that the aural experience gets lost. But I do believe in aligning the music to their relative attention spans. So for the 3-to-6-year-olds at Baby Got Bach, no piece of music I play is longer than 4 minutes. You could add one more minute per year of age for elementary school kids. That said, I use cohesive excerpts of real music, or complete movements. We've played from Brahms' Horn Trio, Ravel's String Quartet, Schumann's Piano Quintet and many other pieces of standard repertoire.
We also find ways to facilitate listening. Too often in our modern culture, it is acceptable to listen passively, whether to music or to teachers. Kids need to actively participate, otherwise the music becomes mere wallpaper. Our BGB events are in three parts. First, hands-on activities, where kids get to touch and play the instruments AND get to meet the musicians that they later see on stage. Then, a short "jam session" where the children sing songs they know, and play along on simple percussion instruments. By this time they are excited about making music, which they have been participating in for over half an hour, and they are also a little tired — with any luck, they are just tired enough to be able to sit down calmly for our main show!
Christian Steiner/courtesy of the artist
I love connecting music to other artistic fields when presenting to kids. For younger kids, having them listen to a story that goes along with the music is helpful. After all, they've already started to learn to sit quietly to listen to a story. For older kids, having them come up with a story themselves also focuses their listening. For all kids, asking them to draw in crayons their reaction to a piece of music helps release a level of listening comprehension that they might otherwise not access.
I've gone so far as to commission works specifically for the kids in my audiences. We incorporate active responses from the kids to ensure that they're listening. For example, they may have to quack like ducks in the same rhythm a viola just played. Or they may need to march with their hands and colored handkerchiefs high in the air when the music is forte, but tiptoe with the hankies covering their eyes when the music is piano. You can introduce interactive elements like these to almost any music. The goal is to clearly reward careful listening.
For the performers, the most important thing is that they love the music they are presenting. Kids are just as attuned to sincerity as adults, if not frankly much more so. They will catch on if the music performed for them is done so lovingly or not. Many of my Baby Got Bach musicians have told me that the kids were the best audience they've ever had. And this is the audience that will grow up to become lifelong music lovers. There is nothing more satisfying than knowing you may have changed someone's life by your performance.