The 2011 Deceptive Cadence Holiday Gift Guide
Now that December is in full swing, our thoughts have turned to all sorts of goodies to be tied up with strings.
For more inspiration, be sure to check out NPR Music's dizzyingly diverse "50 Favorite Albums Of 2011" — which includes recordings by artists from Alexandre Tharaud to the London Philharmonic Orchestra playing Mahler's Symphony No. 2 — and our more-than-slightly tongue-in-cheek guide to what not to give. Perhaps unsurprisingly, the violin loo seat seems to have been the biggest hit (or miss?) amongst our readership.
We have even more in store for you this week. Stay tuned for Deceptive Cadence's own list of 2011 favorites. In the meantime, happy gift giving and getting!
The 2011 Deceptive Cadence Holiday Gift Guide
Liszt Box "Master and Magician" (Sony) $56.99
This was the Liszt year (his 200th birth anniversary was October 22), and this intriguing 25-CD set (plus a DVD) is a timely, appropriate gift for Liszt-o-maniacs or those who know little of the misunderstood composer's work. The set covers an incredible swath of Liszt's prodigious output, from the late, fascinatingly modern solo piano pieces to transcriptions of Schubert songs and Beethoven symphonies, to orchestral tone poems thick with pomp and the masterful Faust Symphony. The list of pianists is a who's who of the composer's major champions: Kissin, Gould, Richter, Berman, Rachnaninov, Ogden, Bolet, Horowitz, Volodos, Rubinstein and on and on.
Minimal Piano Collection (Brilliant Classics) $56.00
For the minimalist on your holiday list, this Minimal Piano Collection is maximal. Nine CDs worth of minimalist music for solo piano should keep anyone giddy with repetitive delight for months on end. The set includes music by usual suspects such as Philip Glass, John Adams, Michael Nyman and Terry Riley, but also music with its own minimalist sensibilities of spaciousness and calm by Arvo Pärt, Erik Satie and pianist Jeroen van Veen, the lone performer of the set.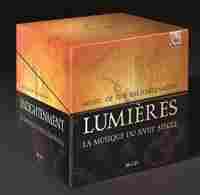 The 2011 Deceptive Cadence Holiday Gift Guide
Lumières: Music Of The Enlightenment (Harmonia Mundi) $59.99
One of the biggest bangs for your buck this year is undoubtedly this box set (only sold in the US through ArkivMusic), which encompasses an extraordinary musical period that spans Vivaldi to Beethoven. For roughly 2 bucks a disc (the box includes 29 CDs and 1 CD-ROM), you'll have absolutely top-drawer recordings at your fingertips, from Haydn symphonies preformed by the Freiburg Baroque Orchestra to Rene Jacobs' traversal of Le Nozze Di Figaro to the Tokyo String Quartet playing Beethoven.
Mollydooker The Violinist Verdelho 2011 $22.99
This big, creamy and potent (15% alcohol) white made from the Verdelho grape by Australian winemaking couple Sarah and Sparky Marquis of Mollydooker (Aussie slang for left-handed) is a total delight. In 2006, wine guru Robert Parker selected that year's vintage as the best white wine in the world under $20.00. It was named after Sarah, a lefty who forced to play her violin right-handed in school so she wouldn't poke out the eyes of her neighbors with her bow. The Violinist is barrel fermented and matured in 2/3 American and 1/3 French oak.
Anna Nicole (DVD, Opus Arte) $26.99
Half-naked pole dancers, cocaine, breast implants and billionaires? Now we're talking opera! Anna Nicole by Mark-Anthony Turnage opened earlier this year in London. It is an operatic re-telling of the life of Anna Nicole Smith, the Playboy playmate who married a wealthy octogenarian. It's no La Traviata (the LA Times called it "tawdry, if entertaining") but you can't deny the strong performances, especially by Eva-Maria Westbroek in the title role.
A scene from Anna Nicole by Mark-Anthony Turnage.
Alex Steinweiss: The Inventor Of The Modern Album Cover (Taschen) $46.99
The dry title of this coffee-table extravaganza does no justice to one of the most stunning books released in 2011 — or to the work of Steinweiss, who died this year at age 94. As this book amply demonstrates, Steinweiss single-handedly created the whole concept of album art, and this gorgeous edition celebrates the color, verve and playfulness of many of the 2500-plus covers he created for Columbia, Decca and other smaller labels.
'Presto' (from Violin Concerto No. 1 in G minor)
ASM 35: The Complete Musician (Deutsche Grammophon) $302.00
This set, ASM 35: The Complete Musician, will not win awards for form following function (with its clumsy layers of translucent plastic shells looking like a Habitrail gone haywire) but its music is undeniably brilliant. In 40 CDs, it covers violinist Anne-Sophie Mutter's 35-year career, from a pre-teen recital to the many new pieces composed for her by the likes of Lutoslawski and Penderecki. A handsome 288-page hardbound book is included.
Vic Firth 3" x 12" Barrel Rolling Pin (Vic Firth) $36.00
Know a foodie who also loves some good mallet-thwacking? Honor a drum hero with rolling pins made by Vic Firth, the former timpanist of the Boston Symphony Orchestra. For decades, he's been known among percussionists for his excellently crafted drumsticks and mallets – and now he offers superb, hand-crafted kitchen tools including gorgeous rolling pins.
Timber, for 6 percussionists [Part 1]
Michael Gordon's 'Timber' (Cantaloupe) $17.99
This wins our 2011 packaging prize. The disc of Michael Gordon's mesmerizing 55-minute composition for six two-by-fours is nestled snugly in a handsome wooden box, which is decorated with images and lettering that could have been rendered by a vintage woodburning kit. Who would have thought that six guys banging on Home Depot items could sound so amazing? The shifting field of overtones produces its own kind of melody.
Heifetz Box (Sony Classical) $499.00
Master violinist Jascha Heifetz has been dead for 24 years, but don't tell Sony Classical. They keep rolling out re-issues of his music, none more thorough than the 103-CD (plus one DVD) set called, appropriately, Jascha Heifetz: The Complete Album Collection. The Guinness World Records people have declared the largest set of audio discs devoted to a single classical instrumentalist. Yes, pretty much everything is here. An excellent choice for the obsessive completist on your shopping list.
Composer Melody Set (Quadrilla) $64.95
A fun gift for both kids and grownup Cage acolytes — it's a musical spin on a classic kinetic toy. With the Quadrilla Melody Basic Set, you assemble wooden blocks and metal plates, then send marbles down the structure you've crafted to create your own literally stepwise melodies.
Carnegie Hall Treasures (Harper Design) $52.50
This showpiece of archival images and anecdotes was culled to celebrate the legendary venue's 120th anniversary. With such wonderful images as an autographed 1904 publicity picture of Pablo Casals, Fritz Kreisler, Harold Bauer and Walter Damrosch, as well as a signed poster for an all-star performance of Terry Riley's In C in 2009, the book fairly hums with good musical vibrations.