Bach's 'Goldberg Variations': Infinite Worlds Out Of Eight (Borrowed) Notes
Bach's 'Goldberg Variations': Infinite Worlds Out Of Eight (Borrowed) Notes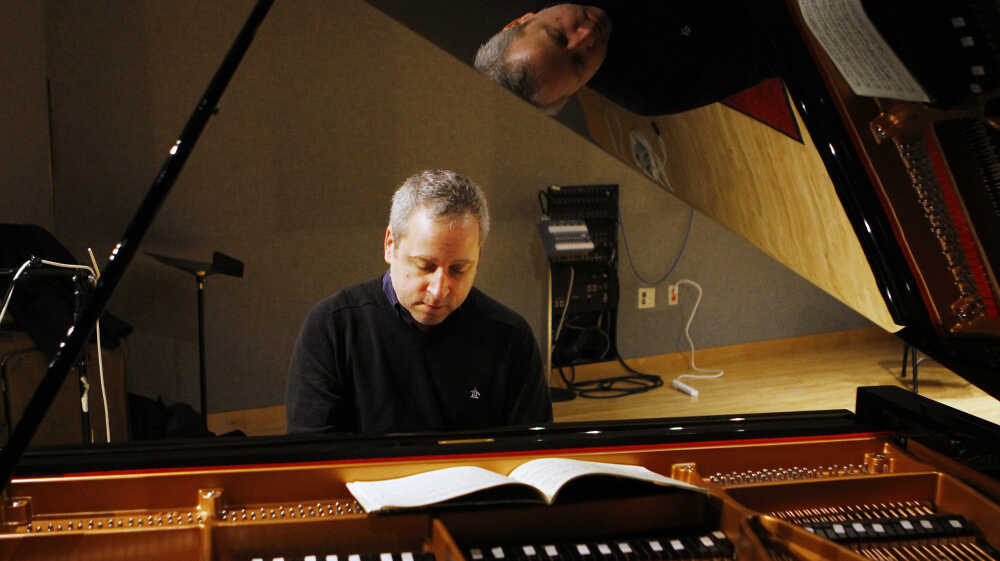 Jeremy Denk plays Goldberg Variations in Studio 4-A: Variations 13, 18, 21, 22, 6, Aria
A few weeks ago, pianist Jeremy Denk stopped by our studios to play and discuss Bach's Goldberg Variations. The piece begins with an initial melody, the Aria, followed by 30 short but brilliant variations built on eight notes Bach appears to have borrowed from Handel. Then Bach returns to that first, quiet and lovely melody.
There's nothing facile or formulaic about the variations, but Denk says they are linked by something deeper in music.
"One of the most beautiful thing about the Goldbergs is that Bach uses it as a canvas in which to draw this seemingly infinite world of possibility," Denk says. "He grabs from everybody; he basically does a mashup. He does things in the style of the French overture, in the style of different dances; he does lamenting — from the smallest to the largest, from the happiest to the saddest."
Jeremy Denk On The Yoda Of The Piano
But even among these infinite possibilities, Bach managed to keep a connection between the variations — it's the same eight bass notes borrowed from Handel that threads all the music together.
"This piece is a great example of one-upmanship in the history of music," says Denk. "In 1733, Handel published 62 variations on a bass line ... and that's the same first eight bass notes of the Goldberg variations. And what Bach basically did is took those eight bass notes and multiplied it by four, because he thought it would be too monotonous [otherwise]. It's so much more profound, what Bach manages to do with these eight bass notes."
Bach's 'Goldberg Variations': Infinite Worlds Out Of Eight (Borrowed) Notes
Denk says he is actually surprised by the Goldberg Variations' continued popularity, despite its length and the tremendous patience it takes to absorb the whole piece.
"It's amazing how that piece has become iconic and a common thing, even in this very modern, Internet world," Denk says. "It's a piece that lasts perhaps 70 or 80 minutes, and somehow that piece is still very relevant right now."
Jeremy Denk Joins Us Throughout Goldberg Week