The 'Goldbergs,' Remixed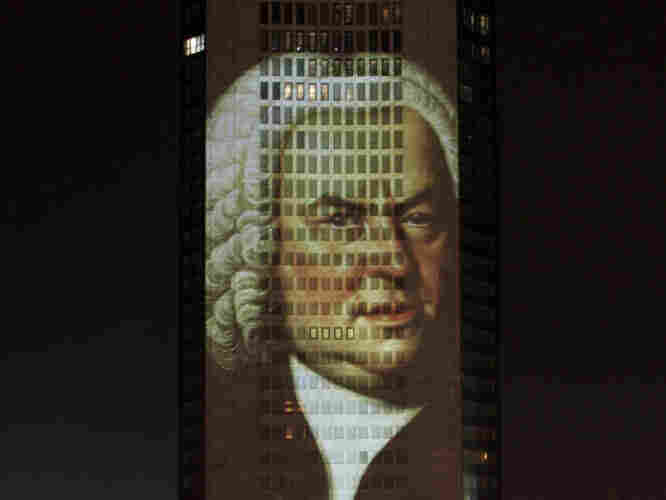 Jens Schlueter/AFP/Getty Images
Or call them the 'Incognito Goldbergs.'
All this week, we've been examining Bach's monumental and yet intimate Goldberg Variations from all sorts of perspectives. But we've lavished most of our attentions thus far on various keyboard iterations, from Leif Ove Andsnes' thoughts on Glenn Gould to Andreas Staier on the harpsichord to Jeremy Denk playing a pianistic piece of public art, along with a generous serving of Denkiana all week long.
But what we haven't really addressed up until now is the incredibly vast array of Goldberg arrangements that exist for alternate instruments: some marvelous (I wouldn't be as happy in a universe that didn't contain Uri Caine's joyfully polyglot take on the Goldbergs) and some just plain head-scratching (Moog-ified Variations, anyone?).
At their best, such arrangements and revisions showcase the endless possibilities that Bach's genius presents — and also expand the repertoire for certain instruments, which is not a small thing for, say, the harp or the saxophone).
So here are six very different takes on the Goldbergs, and each one brings out a different quality in Bach's music. As Denk so elegantly explains, the composer spun a "seemingly infinite world of possibility" out of eight simple notes in a bass line.
Brass: Canadian Brass
from Bach: Goldberg Variations
by Canadian Brass
Ever think of the Goldbergs as the first cousin to those wonderful antiphonal brass pieces by composers like G. Gabrieli and Monteverdi? You just might start thinking of them that way after hearing the Canadian Brass play these variations — they spin out each iteration in a marvelously singing fashion. The details of Bach's counterpoint aren't always crystal clear, but the richly voiced lines are pure pleasure.
Guitar: Kurt Rodarmer
from Bach: The Goldberg Variations
by Kurt Rodarmer
How do you play the Goldberg Variations when you have only six strings and just two hands at your beck and call? Guitarist Kurt Rodarmer fashioned a two-part solution for this recording. He employed a guitar custom-made for this project in which the bass register extends downward to mimic that of the cello — and overdubbed himself to create duets, trios and quartets.
Harp: Catrin Finch
from Goldberg
by Catrin Finch
Welsh harpist Catrin Finch created her own transcription of the Goldbergs with fascinating results. Within the 30 variations, she stretches and crushes tempos like a taffy maker, and takes the opening Aria at a ruminative — even stately — pace. The results of her experiment prize sheer prettiness over intellectual depth, but are very easy to enjoy.
Organ: Jurgen Sonnentheil
from Wilhelm Middelschulte: Organ Works, Vol. 4 - Goldberg Variations
by Jurgen Sonnentheil
In 1924, Chicago-based German organist and composer Wilhelm Middelschulte premiered his own highly Romantic and wildly colorful organ arrangement of the Goldbergs — and here it is again, recorded for the first time by Jurgen Sonnentheil. This may not be a version for 21st-century, historically informed performance practice tastes, but people who love the fantastically huge palette of the organ should take a listen.
String Trio: Matt Haimovitz, Jonathan Crow And Douglas McNabney
from Bach: Goldberg Variations
by Matt Haimovitz
Not totally unlike Catrin Finch's harp version this arrangement for violin, viola and piano (made in the 1980s by violinist Dmitri Sitkovetsky) smoothes out the edges of Bach's music, transforming it into a lush piece of chamber music. This is a reading borne out by a spaciously engineered kind of sound on this recording from cellist Matt Haimovitz and his own label, Oxingale. Violinist Jonathan Crow, violist Douglas McNabney and Haimovitz are fine, impassioned musicians — even if this doesn't immediately seem the most convincing version to you, it's highly enjoyable on its own terms.
Viols: Fretwork
from Bach, Goldberg Variations
by Fretwork
So much of Bach's music is based on the idea of counterpoint — of voices or instruments weaving in and out of each other's paths — carried to genius extremes. This recording by the early music ensemble Fretwork, using a new arrangement by their leader, Richard Boothby, emphasize those interconnections. And the instruments the group plays, called viols (bowed, stringed instruments that were one of the precursors to the modern cello), were already old instruments by Bach's time. So this version brings a fascinatingly antiquated feel to the music — with a soft and soulful timbre to match.