Talk Like An Opera Geek: Savoring The Bel Canto Sound
Talk Like An Opera Geek attempts to decode the intriguing and intimidating lexicon of the opera house.
It's easy for opera fans to toss around the term "bel canto." It's much harder to actually define it. Literally, bel canto means "beautiful singing" in Italian, but it's so open-ended that it's come to mean anything from the lyrical trend in Roman cantatas from the 1640s to any particularly lovely snippet of vocalizing from any era. And then there's the inverse of bel canto — "can belto" — a handy put-down to be flung at any singer who just stands and barks.
But another important reference point for bel canto leads to a particular trend in Italian opera that was responsible for this so-called "beautiful singing." The style bloomed in the first few decades of the 19th century, starting with Gioacchino Rossini, moving through Gaetano Donizetti and Vincenzo Bellini, and winding up in the early operas of Giuseppe Verdi.
As opera orchestras (and opera houses) began to grow in size, composers shifted toward a slightly heavier vocal tone. No longer relying solely on the old-fashioned flurries of notes and roller coaster runs to wow audiences, they emphasized long, flowing melodies, where carefully placed (even disguised) breaths from the singer would preserve the unbroken quality of the lines. And yet, not all the pyrotechnics disappeared. Rossini included both the old florid style and new bel canto expressions in his operas, sometimes both within the same aria. His operas positively sparkled, yet his musical characterization could be shallow. Bellini was far more poetic in setting text, but it would take Verdi, after emerging from his early, self-described "galley years" to uncover an even deeper musical realization of characters. But that's a story for next time.
Below are a few bel canto excerpts that are beautiful indeed. Have a favorite bel canto aria? Tell us about it in the comments section.
Gioacchino Rossini: "La donna del lago" (1819)
Song: Mura Felici"
from Complete Decca Recitals
by Marilyn Horne
Rossini's mix of old school florid music (he was the first to write out every embellishment) with both comedy and serious drama earned him rock star status. He also expanded melodies and other musical ideas within scenes, making them more cohesive and helping push opera into the Romantic era — with a nod to the past. His idea of bel canto was apparently a singer with a naturally beautiful voice, thorough training to facilitate effortless delivery and a sense of style absorbed only by listening to the best Italian singers. You can hear it all in this excerpt from his 29th opera, La donna del lago (The Lady of the Lake), sung by Marilyn Horne.
Vincenzo Bellini: "Norma" (1831)
Song: Casta Diva
from Callas Live
by Maria Callas
As a student, Vincenzo Bellini was bowled over by Rossini's genius. But Bellini developed his own sound, partly based on his melding of words and music into a new kind of dramatic expression far beyond that of his musical hero. It would be a sound not lost on Wagner, who wrote, "Bellini's music comes from the heart, and it is intimately bound up with the music." Another Bellini innovation was his expansive unfolding of a melody, reaching its peak of ecstasy only at the end of the aria. There's no better example than "Casta Diva," the opening aria for the title character in his opera Norma. After decades in decline, bel canto operas surged back onto the stage in the mid-1950s, thanks to powerfully dramatic interpreters and technically assured singers like Maria Callas (heard here live in London in 1952).
Gaetano Donizetti: "Anna Bolena" (1830)
Song: Anna Bolena, opera [Al dolce guidami]
from Leyla Gencer, Vol. 2
by Leyla Gencer
In Survivor: Bel Canto, Gaetano Donizetti might get voted off the island first. His reams of hummable melodies, high-flying note twirling and easily digestible plots ultimately sank his reputation. That's not to say he couldn't spin out a ravishing, long-lined melody of Bellinian quality, or craft a compelling drama. Over a span of some 65 operas in 30 years, there are a handful of outright winners, like Anna Bolena from 1830. Here Donizetti melds music and drama. The coloratura passages for Anne Boleyn aren't just for show, they express her true feelings — especially when sung by the marvelous Turkish soprano and bel canto specialist Leyla Gencer.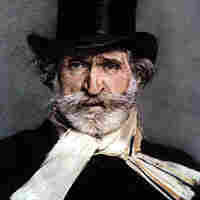 Giuseppe Verdi: "Giovanna d'Arco" (1845)
Song: Giovanna d'Arco, opera
from Diva:Montserrat Caballe
by Montserrat Caballé
Just a year after Bellini died (in 1835, at age 33), Verdi got his first real job as the conductor of the philharmonic society in his hometown of Busseto. He was a Bellini fan who realized something had shifted in opera. "There are extremely long melodies as no one else had made before him," Verdi wrote. It would take another three years for Verdi to produce his first opera. You can hear some of Bellini's influence in Verdi's early works, like the long, flowing and elegant melody in this short aria from his operatic version of the Joan of Arc story. The soprano in this recording, Montserrat Caballé, is another bel canto master.