Takacs Quartet: A Slice Of Schubert And A Bartok Palindrome : Deceptive Cadence The revered group plays intricate Bartók and passionate Schubert at the Savannah Music Festival.
Takacs Quartet: A Slice Of Schubert And A Bartok Palindrome
Takacs Quartet: A Slice Of Schubert And A Bartok Palindrome
Takacs Quartet: A Slice Of Schubert And A Bartok Palindrome
In Concert At The Savannah Music Festival
Takacs Quartet: A Slice Of Schubert And A Bartok Palindrome
(All this week, we're featuring concerts from the ongoing Savannah Music Festival.)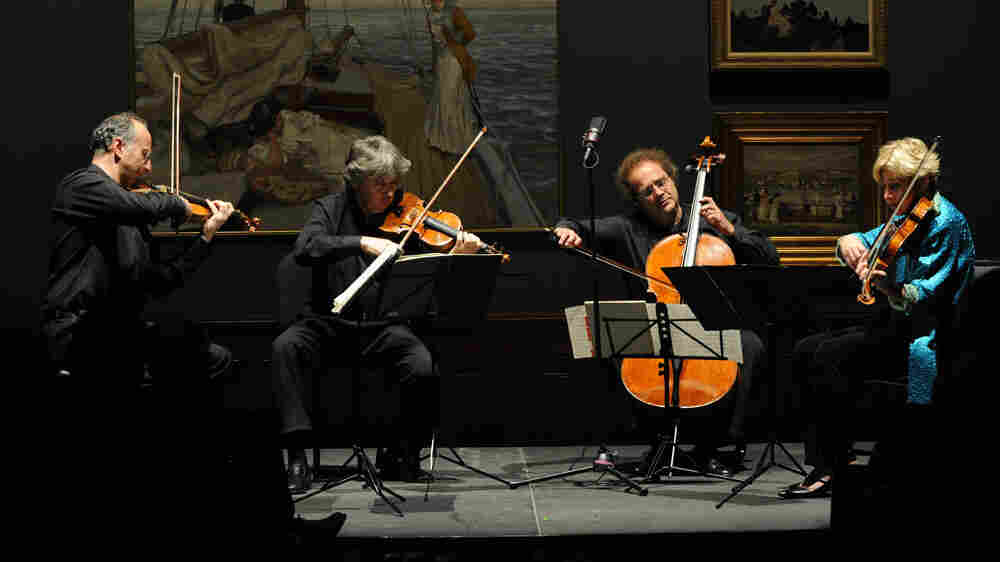 Frank Stewart /Savannah Music Festival
The Takács Quartet traveled to the Savannah Music Festival to play Bela Bartók's knotty, challenging String Quartet No. 4. But how did they warm up the crowd? With a slice of insistent, lyrical Schubert.
In December 1820, the 23-year-old Schubert began writing a new string quartet. He got through the opening Allegro and a few bars of the second movement, but that's where it ended. Although it's unfinished, the orphaned piece has led a successful life alone under the name Quartettsatz, or Movement for String Quartet. Consider it a musical IOU for the fully realized string quartets Schubert would write in his final years. Groups like the Takács find its combination of intensity and melody irresistible.
Playing Bartók's String Quartet No. 4 must be like revisiting an old friend for the Takács Quartet. The players, especially founding members Károly Schranz and András Fejér, have kept all six of Bartók's quartets active in their repertoire for decades.
"If we play 80 concerts in a season, Bartók is on 60 of them," says Schranz, the group's second violinist. Yet Bartok's music remains some of the most difficult the Takács performs.
Program
Bartok: String Quartet No. 4
Takács Quartet, recorded Mar. 22 at The Savannah Music Festival
Like Beethoven, Bartok wrote string quartets throughout his entire career. And like Beethoven, Bartók used the regimentation of classical form as a hothouse for experimentation, pushing the ensemble beyond its traditional limits.
That doesn't mean Bartók didn't have structure in mind — far from it. The five-movement Fourth Quartet is built like a palindrome. At the heart of the 25-minute piece is the slow movement. It's surrounded by two jittery scherzos, and those, in turn, are framed by two forceful Allegros.
"The slow movement is the nucleus of the piece," Bartók said. "The other movements are, as it were, bedded around it. The fourth movement is a free variation of the second one, and the first and fifth movements are of the identical thematic material."
A few signposts along Bartók's arching and adventurous path might be helpful:
1. Allegro: The outer shell of the piece is tough, with chords densely packed. Bartók plays with a six-note theme, spinning, and sometimes spitting, it out in many guises.
2. Prestissimo: A shifty movement played with mutes on the strings. Listen for eerie sounds that include strums, slides and pizzicatos.
3. Non troppo lento: The heart of the piece feels nocturnal, and opens under musical moonlight with a quiet yet spiky cello solo. The movement ends as it began.
4. Allegretto pizzicato: This insect-like movement is entirely plucked and features the so-called Bartók pizzicato, in which the players snap the strings back against their fingerboards.
5. Allegro molto: The other outer shell, with its whiplashing, nearly out-of-tune-sounding chords, comes across as a peasant dance with a barbarous lust for life.
Composer Bruce Adolphe thinks of the Fourth Quartet in cinematic terms. "The drama of this quartet at times seems cinematic," he says. "Bartók crosscuts musical fragments as a film director might cut back and forth between contemporaneous scenes to create suspense."
The Takács Quartet, founded in Budapest in 1975, has been in residence at the University of Colorado in Boulder since 1983. The group emigrated to the U.S. in 1986.