Fireworks From Cuba, And Schubert That Grooves: New Classical Albums
Fireworks From Cuba, And Schubert That Grooves: New Classical Albums
Although it always seems fashionable to forecast the downfall of classical music, enterprising musicians both young and not so young continue to make deeply satisfying recordings. For this visit to weekends on All Things Considered, I was delighted to uncover the little known (at least in this country) Jorge Luis Prats, a terrifically talented Cuban pianist whose once uncertain career appears to be resurging — at 55, he has signed a handsome record deal. Then there's The Knights, a young chamber orchestra with a postmodern take on Schubert. They cleverly juxtapose his music with kindred spirits from the 20th and 21st centuries — Erik Satie, Philip Glass and Morton Feldman. Conductor John Eliot Gardiner, now an elder statesman of the period instrument movement, takes his second shot at the Brahms German Requiem with extraordinary results. And on the lighter side, Israeli composer Ronn Yedidia writes sparkling music for a great clarinetist. Listen to excerpts from these new releases below.
Bachianas Brasileiras No. 4, for piano, A. 264 [4. Dança (Miudinho)]
Jorge Luis Prats: Villa-Lobos — 'Dança' (from Bachianas Brasileiras No. 4)
Song: Bachianas Brasileiras No. 4, for piano, A. 264 [4. Dança (Miudinho)]
from Jorge Luis Prats: Live in Zaragoza
by Jorge Luis Prats
Ever heard of Jorge Luis Prats? I didn't think so. Part of the reason is Prats hails from Cuba. He won an important European piano competition back in 1977, but since then he's had a tough time traveling freely and maintaining a top-level career. This album was recorded live in Spain in 2011 at a recital that was reportedly his first big European concert in many years. Now he's 55 years old, obviously a terrific pianist — you can hear his formidable yet easy technique — and he's landed a prestigious record deal with Decca. This is a sweet comeback in an age when big companies love signing handsome 20-somethings. The final movement from Heitor Villa-Lobos' Bachianas Brasileiras No.4 combines a vigorous dance with a tuneful song that seems to waft in from afar.
Gretchen am Spinnrade ("Meine Ruh'..."), song for voice & piano, D. 118 (Op. 2)
The Knights: Schubert (arr. Ljova) — 'Gretchen am Spinnrade'
Song: Gretchen am Spinnrade ("Meine Ruh'..."), song for voice & piano, D. 118 (Op. 2)
from A Second of Silence
by The Knights
This smartly programmed album stitches together disparate composers. Did you know Schubert was a minimalist? He sounds like it when the churning rhythms of pieces like "Gretchen at the Spinning Wheel" and the "Unfinished" symphony are set beside the motoric repetitions of Philip Glass. And the spaces between the notes are quietly explored in pieces by Erik Satie (two Gymnopedies) and the late 20th-century master of nervous tranquility Morton Feldman. These are seamless juxtapositions played with verve from the fresh-faced New York chamber orchestra The Knights, a brother organization to the string quartet called Brooklyn Rider.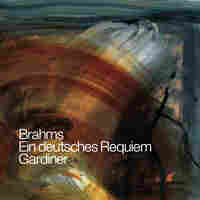 Wie lieblich sind deine wohnungen
Brahms: 'German Requiem' — 'Wie lieblich' (John Eliot Gardiner, et al)
Song: Wie lieblich sind deine wohnungen
from Brahms: Ein deutsches Requiem
by John Eliot Gardiner
I love the conductor John Eliot Gardiner's approach to this marvelous music. It's transparent and colorful yet intimate and at times hauntingly urgent. And then there's the amazingly expressive, perfectly blended and disarmingly precise Monteverdi Choir. This is the second time Gardiner has recorded this piece with this chorus and orchestra, and again he tries very hard to uncover the sound Brahms might have heard when it premiered in 1868. That means using instruments (or copies of instruments) from Brahms' day, like the old Viennese brass — so full of character, with horns that glow with a warm, burnished tone (they can snarl, too) — plus shorter Viennese oboes and the period timpani, struck with hard sticks. This Requiem comforts the living instead of focusing on the dead, which is evident in the warm central movement, "How amiable are thy tabernacles."
Ronn Yedidia & Alexander Fiterstein: 'World Dance'
Song: World Dance
from Ronn Yedidia: Impromptu, Nocturne and World Dance
by Alexander Fiterstein
Here's a lighthearted album that meanders across various classical and world music genres. There's a natural fluency to the way Israeli composer and pianist Ronn Yedidia writes for the terrific clarinetist Alexander Fiterstein, whether Yedidia is borrowing from Arab, Spanish, klezmer or jazz idioms. The tune "World Dance" for clarinet and piano is jaunty and irresistible. The more straightforwardly classical "Concertino" for clarinet, piano and strings is more serious, with an extraordinary cadenza that shows Fiterstein at the top of his game.