Guest DJ: Decoding Debussy With Pierre-Laurent Aimard
Guest DJ: Decoding Debussy With Pierre-Laurent Aimard
In the western suburbs of Paris 150 years ago today, a boy was born to an unassuming couple, proprietors of a china shop who had no great taste for music. But that little boy felt otherwise, and grew up to write music of bold color, timbre and harmonic daring.
Claude Debussy ignored the old rules about how to write music and in the process created a brave new world of sonic possibilities.
To mark the Debussy sesquicentennial, French pianist Pierre-Laurent Aimard stopped by to spin a few of his favorite Debussy recordings. The 54-year-old pianist knows a few things about adventurous music himself. At age 19, Pierre Boulez chose him as the first solo pianist in the Ensemble Intercontemporain, a group devoted to avant-garde music. A year later, Aimard performed the demanding solo part in Olivier Messiaen's Turangalila Symphony with the Chicago Symphony Orchestra. These days, his repertoire ranges widely from contemporary music back to J.S. Bach.
Exclusive Sneak Preview: Pierre-Laurent Aimard Plays Debussy
The Sunken Cathedral
from Debussy: Preludes
by Pierre-Laurent Aimard
Pierre-Laurent Aimard's recording of Debussy's Preludes will be released Oct. 9. Hear a sample of it, courtesy of Deutsche Grammophon.
Some of Aimard's very first musical memories are of being "overwhelmed" at hearing Debussy's music. For Aimard, Debussy is still radical and his veiled, complex music has "a troubling dimension."
"We don't always know exactly what it is about," Amaird says, "because things are mixed, and they are not also completely clearly said. They remain hidden."
Aimard has made a case for Debussy in this anniversary year by playing a lot of the composer's music. His new recording of Debussy's Preludes will be released in October; in November Aimard plays them at Carnegie Hall.
Below are longer excerpts of the pieces Aimard chose to talk about in our discussion (which you can hear by clicking the audio link) and his condensed remarks about them.
Hear Aimard's Handpicked Debussy
Proses lyriques (4), song collection for voice & piano, L. 84 [De fleurs]
'De fleurs' (sung by Susan Graham)
from Susan Graham at Carnegie Hall
by Susan Graham
I've chosen this piece not because it's one of my favorite songs by Debussy. I prefer when he's more adventurous in his harmonic language. But what I've found very significant is that in in this case is that he has written the poetry. And one can feel first of all how musical his French language is, and second of all how [much] culture he had in terms of visual arts, in terms of literature and poetry.
Pelléas et Mélisande, opera in 5 acts, L. 88 [Act 3. Scene 4. Ah! Ah! Petite mère a allumé sa lampe]
Pelléas et Mélisande: Act 3, finale scene
from Debussy: Pelléas et Mélisande
by Roger Desormiere
I've chosen this scene because it is a very disturbing one that shows a lot about Debussy. This is the scene when the child, Yniold, will be carried by Golaud to look at Mélisande's window. And Golaud, who is jealous, feels already that Mélisande is in love with Pelléas. We'll discover what Yniold sees in Mélisande's room. At the end of the scene, Yniold doesn't say anything. He says, "No, I am too afraid, I am too afraid." And this fact, not to say something, tells much more about what happens in the entire drama than the reality.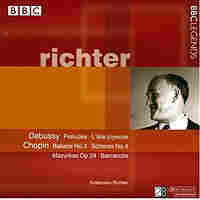 Préludes (12) for piano, Book I, L. 117 [No. 4, Les Sons et les parfums tournent dans l'air du soir]
Préludes, Book I: 'The Sounds and Fragrances Swirl Through the Evening Air'
from Debussy: Preludes; L'Isle joyeuse; Chopin: Ballade No. 3; Scherzo No. 4; Etc.
by Sviatoslav Richter
In this Prelude written on poetry by Baudelaire he writes music with incredibly rich sonorities, very sensual, and presents an extreme complexity of colors. He creates a very particular form that is not directional, like a traditional piece, but that is always coming back to what it was.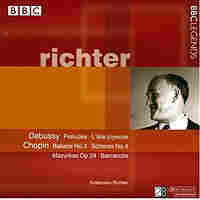 Préludes (12) for piano, Book I, L. 117 [No. 6, Des Pas sur la neige [Triste et lent]]
Préludes, Book I: 'Footprints in the Snow'
from Debussy: Preludes; L'Isle joyeuse; Chopin: Ballade No. 3; Scherzo No. 4; Etc.
by Sviatoslav Richter
It speaks to us about Debussy's depth and hopelessness. We see very often Debussy as somebody who writes nice, a little superficial, pleasing music. And this is so wrong. This was a man that suffered a lot and has got his own way to write very deep music — a kind of sensual depth. There are some pieces by Debussy that are as deep as the deepest music ever composed, and this is one of them.
Jeux (ballet)
from Claude Debussy: Nocturnes/Premiere Rhapsodie/Jeux/La Mer
by Pierre Boulez
If the song that Susan Graham sang magnificently (above) was a little Debussy in the French tradition, with Jeux we have Debussy in complete modernity, in which we can't find any more rules in terms of orchestration, of form, of harmony, of music-making. This music is as no music has been until then and opening the doors for a new era. It's very hard to describe it, because Debussy is like that. You can't catch it, really.