Q&A: How Is The Native College Experience Different?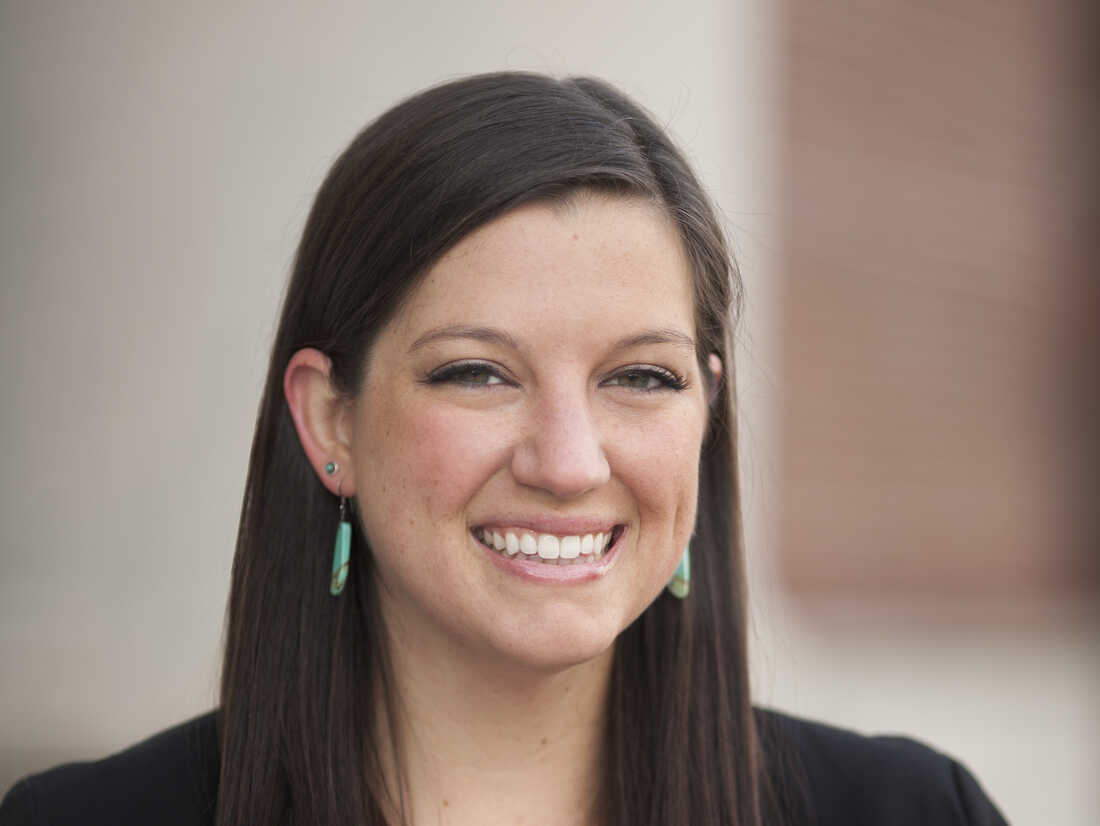 Patricia Saxler/Courtesy Adrienne Keene
Adrienne Keene is a post-doctoral researcher at Brown University, the author of the popular blog "Native Appropriations" and a member of the Cherokee Nation of Oklahoma.
She's also spent years studying the experience of Native American students navigating the college admissions process. Keene works with College Horizons, a nonprofit that helps Native students do just that. Keene not only followed alumni of the program for her dissertation, she benefited from it herself in high school. College Horizons' motto: "College pride. Native pride."
Two years ago, Keene wrote an open letter to a Native student who was just admitted to college. In that letter, she admitted to "feeling like an imposter" when she arrived at college, worried that those around her would assume she'd been admitted because she was a Native student, not because she was a smart, talented young woman. And she lauded Native students for choosing college--a "decidedly unselfish" choice--because a degree brings with it "the means to give back to [their community], and the broader Native community as well."
As another class of first-time college students packs for campus, we asked Keene to discuss her piece and the Native experience in higher education.
Here's part of our conversation:
What made you write that letter?
"Every year at College Horizons, I talk to the students. We do a lot of identity development and conversations about what it means not just to be a college student but a Native college student. How will you bring that identity with you to college and what are some of the challenges that you'll encounter?
"We have students divide up into groups based on the ways they self-identify, so I always speak to the students who are still figuring out what it means to be Native. Maybe they've grown up far away. Maybe they don't have a ton of cultural ties yet. So I talk to them about what it's going to be like to go through this process.
"The story I wrote about in the post is one I hear over and over from friends in similar situations, from other students who have gone through the process. So I felt like I wanted to just put it out there and say 'This is a conversation I hear happening all the time. I want you to know you are not alone. You can know that there are other people who go through this as well.' "
Tell me more about the motto of College Horizons. What is the relationship between "college pride" and "Native pride?"
"To me that's the crux of this whole conversation around going to college.
"Historically in Native communities, formalized Western education was used as a tool of cultural genocide, a tool of assimilation. With the whole government-run boarding school system—a system that my own grandmother and my aunties went through as well—where the professed model was to kill the Indian and save the man. For so many decades and generations, this idea of going off to school meant losing your Native culture.
"It meant that part of you was forcibly erased. You weren't allowed to speak your language. You weren't allowed to practice your culture. That is a legacy that occurred up until the 1960s and '70s, so this isn't ancient history.
"What College Horizons and a lot of other organizations are trying to do is to re-frame this idea that going to college is not about losing your identity as a Native person. It's a way for you to give back to your community. It's a way for you to build up your nation. It's a way for to gain the skills and knowledge that your nation needs."
Tell me about what you experienced going through the college application process.
"Most of my friends in high school didn't really know about the Native side of me because I grew up in San Diego with them. I looked like them. I had my California accent. I did everything that they did. All of a sudden, in the college process, I was going to College Horizons. I was getting called into the guidance counselor's office for her to talk to me about opportunities for Native students.
"There was a lot of resentment that I had somehow 'cheated the system' or I had faked this or it wasn't real. I went to Stanford for undergrad, and I went to a high-achieving high school. So a lot of students applied to Stanford. Four were admitted, and I was the one who got the most challenge to my admission, even though all of us had nearly perfect GPA's, AP classes, sports, leadership — all those sorts of things. But I got tagged as somehow cheating the system.
"I went to college feeling really insecure, like I didn't belong at Stanford and that they had only admitted me because I checked this box. What I learned through the years--and subsequently working in admissions--is how multi-faceted this admissions process is.
"There are so many pieces that go into admitting a student. There's no way, especially at a school like Stanford where admissions is so competitive, that it would be possible to just admit students because they fulfill some racial category. It was a long learning process, and I really don't want students to go through the pain of having to figure that out."
The idea of cheating the system is really interesting — but it's not unique to Native students. As a black student growing up, going to a good high school, getting into top-tier colleges, I got charged with the same thing. What makes the experience for Native students different than for other students of color?
"There's this piece of our identity that is different in that we are citizens of sovereign nations.
"Our nations made treaties with the federal government from the earliest days of the formation of the United States and even the colonies. In many of those treaties, they promised education for the tribes. To me, I see college and Native students going off to college as a fulfillment of those treaty rights.
"There's also the whole piece of nation-building that I believe very strongly in. If we do want our nations to be completely sovereign and to be able to assert those rights that we have as sovereign nations, we need leaders. And we need engineers. And we need doctors. And we need lawyers. In order for that to happen, we need our citizens to go off and gain those skills and then be able to come back."