They set sail with dreams and met disaster: Stories from the ill-fated migrant ship
They set sail with dreams and met disaster: Stories from the ill-fated migrant ship
PUNJAB, Pakistan — When Muhammad Aslam sold his house in Gujranwala, Pakistan, to finance smuggler fees for his two grown sons, he imagined it would pay off when they landed safely on the shores of Europe.
Aslam's sons, Qasim, 36, and Munir, 24, along with two other male relatives, informed their family the trip for the group of four would cost around 10 million rupees, nearly $35,000. They would depart in early May from Noor Jamal – the village where they had moved after selling their house in Gujranwala. They'd drive to Lahore, Punjab's largest city — flying from there to Dubai and then on to Libya, where they'd get on a boat headed to Italy.
As they prepared to depart, the men were excited about the prospect of leaving their area in rural Punjab — a cluster of mud-walled houses on the edge of agricultural land where their family members work as contract farmers. Once they made it to Europe, they planned to find jobs as laborers. They expected to earn enough money to cover their living expenses and send funds home to support their wives and children as well as an extended family of around 40 people.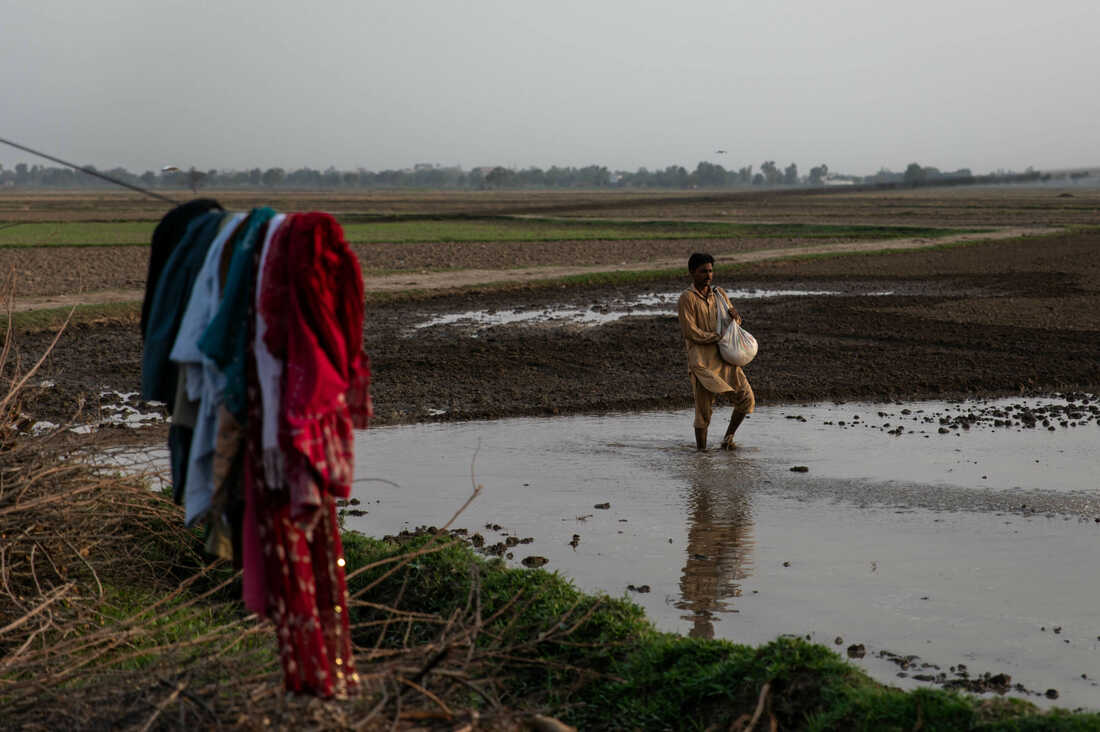 No one in Aslam's family had tried dunki, the colloquial term in the area for illegal migration from Pakistan to Europe, and everything his sons told him about the process was new. "We had no knowledge about it," Aslam said.
Aslam last heard from Qasim and Munir on June 8. Six days later, they were aboard the overloaded migrant fishing vessel that departed from Libya and capsized as it crossed the Mediterranean. The estimated 750 passengers included as many as 350 Pakistani passengers, many of whom were reportedly trapped on the lower level of the boat, as well as Egyptians, Syrians and Palestinians. It was the worst shipwreck off the coast of Greece in a decade.
The two relatives who traveled with Qasim and Munir survived. But the brothers are still missing. The family hopes the men somehow made it out alive and are as yet unaccounted for. But nearly two weeks on, that possibility is increasingly unlikely.
Pakistan's government has cited various figures for how many of its nationals were aboard the ship and how many are presumed dead. Soon after the accident, Mohammad Sadiq Sanjrani, chairman of the Senate, said 300 Pakistanis had died. The country's interior minister on Friday said that at least 350 nationals were on the boat and Pakistan's investigative agency said that 209 that are known to be missing. So far, Greek authorities have recovered 82 bodies. The shipwreck took place in one of the deepest areas of the Mediterranean, and many bodies may be forever lost at sea.
The number of Pakistanis who were aboard the migrant ship is a telling indicator of conditions in the country, which has undergone months of political and economic upheaval. Families of migrants who undertook the journey from Libya say the rising cost of living and lack of options for employment fueled the desire to get out of Pakistan. "Everyone in Pakistan is looking to go outside," said Ibrahim Khan, a close friend of Makhdoom Sadiq, a missing Pakistani passenger from the village of Goleki in Punjab. "If the situation in Pakistan or business was good, nobody would want to leave."
While legal migration takes many steps and much information, the illegal sea route to Europe is widely advertised as a quicker alternative by "agents" who share information on Facebook, TikTok and WhatsApp. They often use pseudonyms and refer to the journey in English as "game," a code word for the illegal journey understood by those who are seeking to take it. Pakistan has arrested at least 10 people for their alleged involvement in a human smuggling network that helped organize travel for victims of the shipwreck. Cases have been registered against alleged smugglers in the Pakistani cities of Lahore, Gujranwala, and Gujrat.
Societal expectations that sons will earn for the household and support aging parents plays a role in the migration trend as young people look abroad for work opportunities. Enticed by social media posts and the prospect of improving their economic conditions, people are willing to risk everything for a future beyond the confines of their villages. "They convince themselves that if they go there, they'll make more money," said Mian Muhammad Khan, a politician from Noor Jamal. Even news of the wreck hasn't deterred them. "After this incident, people still went from our village to Libya," Khan said.
Only 104 people are confirmed to have survived the shipwreck, 12 of them Pakistani. One survivor, Azmat Khan, is also from Goleki, a village just over an hour away from where Qasim and Munir live. According to his brother Javed Iqbal, Khan had married a year earlier and planned to go abroad to provide for his new family. He sold 27 of his buffalo — his main source of income — to raise 3 million rupees for his journey to Europe. "When people [from the village] settle in countries like Italy, Spain and America and come back here, we are impressed by their lifestyle," Iqbal said. "They have big mansions and we have small houses."
Iqbal said his brother made it to the ship's deck from his spot on the lower floor near the window. He jumped from the ship as it started sinking and swam until the Greek coast guard picked him up. Khan's family learned that he was still alive when his picture and identity card surfaced in a WhatsApp group to identify people missing from the wreck. He is now in Libya and has no clear plan for returning home. Pakistan offers him little now, Iqbal said. "Here he's already sold off his property and livestock."
In a grim move, Pakistan has begun DNA testing families of the missing migrants to identify the recovered bodies. The family of 31-year-old Syed Ali Zain from Budho Kalas village said they still have faith that their son is alive, possibly recovering in a hospital, they hope, and unable to make contact. "My heart tells me that wherever Zain is, he is fine," said Zain's mother, Rukhsana Jafri. In an interview with NPR, Zain's father, Syed Ali Raza, broke into tears when talking about the anguish of not knowing the fate of his missing son.
Zain quit his job as a police officer last year to start a rental car business with his friend but became frustrated and depressed when he wasn't making enough money for his family to live comfortably. In hindsight, Jafri said the promise of more money wasn't worth the risk. "I don't think people should go like this but they do it from compulsion. They take a big risk," she said. "My request is that no one should go like this."
In Noor Jamal, Aslam is mostly relying on social media for updates about his sons. Family members saw a post on Facebook claiming some of the boat's passengers were dropped off at a beach in Malta, and Qasim and Munir's names were on the list. Aslam is skeptical about the list and some of his relatives believe it was created by agents and smugglers to avoid responsibility for their possible deaths.
Aslam said the experience has made them even more wary of the journey by boat to Europe, which has stolen away his two sons. It's not likely anyone from his family will attempt the dunki again, he said. "Now we are afraid of the sea."
Reporter Zohaib Kazmi contributed to this story.
Betsy Joles is a journalist based in Pakistan. Follow her work on Twitter and Instagram.