NPR Mobile Traffic And Where It's Headed
For the web data geeks at NPR, the last 12 months have been pretty fun to watch. The NPR API surpassed a billion story requests a month, and traffic to NPR.org has climbed steadily. But to me, the most remarkable story has been the growth in mobile content consumption. Since June 2009, page view traffic to NPR mobile products has grown a whopping 18 times over.
Without sharing exact numbers, I can tell you that this is not growth from a starting point of zero; this is significant traffic. In fact, page views on mobile devices now make up 39% of all page views to NPR digital content.
I wanted to share this chart in light of two competing pieces of news on the mobile front recently. The first was Apple's announcement that its forthcoming update to the iPhone operating system will support the long-awaited feature of multitasking, or the ability for several apps to run on a device simultaneously. Some considered that a watershed moment for streaming mobile audio. No longer will you need to close the NPR iPhone app to check your email, for example; you will be able to listen and browse until your heart's content. And while it's true that the iPhone (and iPad, which also runs that operating system) comprise just one part of the mobile device universe, there's no denying the size and importance of that one part. Just look at the share of NPR mobile page view traffic by platform over the last year. Last month, traffic from Apple devices comprised 74% of the total page views to NPR mobile content.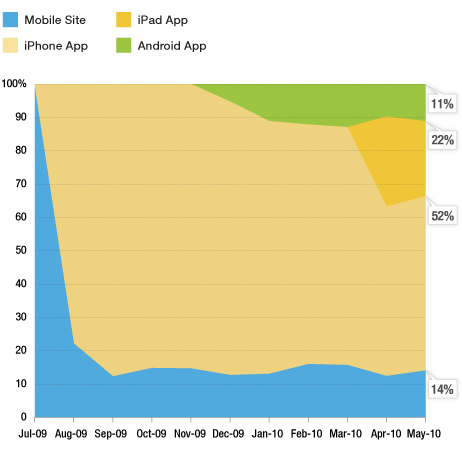 But then last week, as if in reaction to the heightened hopes of mobile media providers in the wake of the Apple announcement, AT&T announced that they will no longer offer unlimited data plans. Under such a "capped" plan, you'll still be able to leave your favorite NPR station streaming on your iPhone as you check your email or use other apps... you'll just have to keep an eye on your data usage as you do so. Otherwise you might get an unpleasant surprise on your monthly bill.
Having spent a couple of weeks abroad last year doing just that, I can attest to the fact that it's no picnic. Most consumers (myself most definitely included) have no idea how much data they are consuming when they perform different tasks and consume different media on their mobile devices. All they know is that some things use a little data (like reading content) and some things use a lot (like streaming audio).
AT&T's new pricing structure will get you 2 gigabytes of data for $25 a month at the higher end. If your favorite public radio station streams audio at 64 kbps, that's enough for 17 hours of over-the-network listening a week. That's a lot of listening, yes, but that's not allowing for use of any other data, like watching video or browsing the web. Playing with the "streaming music" dial on the AT&T data calculator demonstrates that the data will add up quickly.
Most people won't be in danger of using more than 2 gigabytes in a month. But if the advent of multitasking made some people envision continuous use of streaming audio on their iPhone, these new limits might give them second thoughts. While it's true that people will still be able to use as much data as they would like on the AT&T network, the knowledge that they will have to pay extra for it may act as a severe dampener to how mobile media use evolves over time.
That said, and as the charts above illustrate, we're still in the early days of mobile. Who knows what technological or economic shifts the future holds?
Matt Gallivan is Sr. Research Analyst for Digital Media in the Audience Insight & Research group at NPR.