Patient Advocates: Tips From You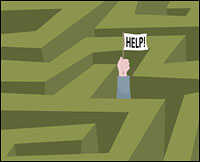 Judging from the many comments on my story this week on patient advocates, we could all use more help navigating the health system.
Tim Grizzard writes that every time he's dealt with a severe illness,
it is like no one has ownership of the problem. In the hospital, treatment is so disjointed from one shift to the next and from one doctor to the next.
Dr. Samuel J. Williams, a semi-retired surgeon in Virginia, says he's "learned the hard way" that patients and families need advocates to help them understand what's happening and make informed decisions.
"I believe that such professionals will become more necessary, not less," Williams writes. He's interested in starting such a service in southwest Virginia, and suggests churches might test the idea of a "parish doctor" or "parish nurse."
A number of others around the nation (I've posted their links at the bottom) tell us they're already doing patient advocacy -- either on a volunteer or paid basis.
But these programs are geographically hit-or-miss and it seems they may not know about each other. A national clearinghouse has just sprung up.
Still, Margo Corbett is skeptical.
Hats off to volunteer patient advocates, but there will never be enough of them to really a difference to the vast majority of people,
she writes. Corbett calls herself a "patient mentor" who teaches people how to advocate for themselves.
R.D. Harmony is an outright dissenter. He says many doctors have abandoned the role of patient advocate. "So now, the answer is another level of decision-maker? Please, no!"
We also heard from some of the unsung heroes who are thrown into the advocate role.
Donna Bonner gave up her job (and health insurance) to act as her mother's full-time advocate. It was an honor to help her, she writes,
but I feel as if I subsidized the poor performance of the medical industry during that period of my life....The health care that exists in the US truly does not serve patients. We need to fix this or we'll all be sorry eventually.
You can read all these comments on your own, of course, but there were so many good links suggested along the wayl that I thought it would be worth gathering them all here, too, as a handy list we can all refer to in times of need.
Let's keep this discussion going -- please let us know as you turn up more good resources, or have a tale to tell.
Whatever the outcome of the national healthcare debate, I'm afraid we're all in for some hard times. It's clear we have a lot to learn from each other.
Your tips:
At Your Side, North Shore Elder Services, Massachusetts: www.atyourside@nselder.org
Patient Navigator, fee-based advocacy network, based in Virginia:
Patient Advocates of Central Florida, fee-based advocacy service starting August 31, 2009: spkwriter@aol.com
ReServe Health Navigator program, a volunteer group for recently discharged patients and frail elders, based in New York
Smith Farm Center, program for cancer patients and training for others to become cancer care advocates, based in Washington, DC area
Dr. Jeanette Ruby, provides medical counseling and advocacy in Seattle

Heartwood Health, fee-based advocates in California
Dr. Gail Gazelle, provides patient advocacy in eastern Massachusetts