Costa Rican President Ill With Swine Flu
The swine flu virus doesn't much care who you are.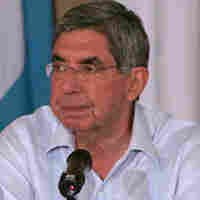 President of Costa Rica? Sorry, gotcha. Oscar Arias, the 68-year-old head of state, was just diagnosed with the illness. Arias is also an asthmatic, which puts him at higher risk for H1N1 infection.
"Apart from the fever and a sore throat, I feel well and in good shape to carry out my work by telecommuting," the 68-year-old said in a widely reported statement.
He'll work from home for a week and is taking Tamiflu to fight the infection.
Data from the Pan American Health Organization show that more than 700 Costa Ricans have fallen ill with swine flu and more than 20 have died in the pandemic.
Arias may be the first leader of a country to publicly disclose a bout of swine flu, but plenty of other newsmakers have fallen ill from the virus.
The actor Rupert Grint, who plays Harry Potter's sidekick Ron Weasley, took a break from filming of Harry Potter and the Deathly Hallows last month after the flu bug bit him. "It was quite scary," he told People. But, he found, "it was just like any other flu, really."
Also last month Cherie Blair, wife of former U.K. prime minister Tony Blair, was sickened with swine flu. Like Arias, she got treated with Tamiflu.