Recall Of Tylenol Arthritis Pain Caplets Widens
Nobody wants to get sick from medicine they've bought to feel better.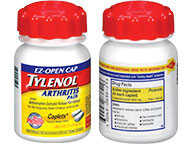 So watch out for bottles of Tylenol Arthritis Pain formula that contain 100 caplets and have a red "EZ-Open Cap." The Food and Drug Administration says all bottles like that have been recalled.
The problem? A musty, moldy odor that's sparked reports of nausea, vomiting and diarrhea. Tylenol's maker McNeil, a unit of Johnson & Johnson, recalled some of the product last month but now says it's taking back all lots. You can e-mail the company about it here.
The company says the culprit is a chemical (2,4,6-tribromoanisole, or TBA) that probably came from the breakdown of another chemical used to treat shipping pallets. "The health effects of this compound have not been well studied, and to date all of the observed events reported to McNeil were temporary and non-serious," the company said in a statement.
We found out Tylenol isn't the only thing that can be spoiled by TBA. Tiny amounts of the chemical can ruin wine, giving it a musty, corked smell. In a paper several years ago, French researchers found TBA had wrecked a bunch of wine stored in areas where the chemical had been present. Even after the original sources of contamination were removed a little TBA on winery walls was enough to do olfactory damage.