House Committee Readies Grill For Johnson & Johnson
Thursday's must-see event, for us anyway, will be a congressional hearing on Johnson & Johnson's problems safely making Tylenol, Motrin, and other medicines for kids.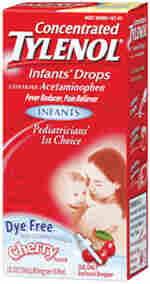 The hearing, starting at 10 a.m., is shaping up as a doozie, based on a peek we got of a briefing memo for members of the House Committee on Oversight and Government Reform.
By now, just about everyone knows quality lapses uncovered by the Food and Drug Administration at a J&J factory prompted a massive recall of kids medicines. But how big? Well, the memo says, "it is the largest recall of children's medicines in the history of the FDA." Seventy percent of the market for liquid meds was affected, the memo says.
One of the most disturbing FDA findings, the memo says, was the "potential for super potency" of medicines, such as batches of Infant's Tyelnol that were too strong. Bacterial contamination was also an issue.
Beyond the specific allegations, the memo paints a picture of repeated lapses, including three quality-related recalls by J&J's McNeil division in eight months.
Colleen Goggins, head of J&J's consumer businesses, will be on the hot seat. The committee had asked J&J CEO Bill Weldon to come, but he won't be there because he just had back surgery, the blog Pharmalot reports.  Weldon apologized for the "disservice" to patients in a recent video interview with Fortune magazine.
Goggins will follow a panel of Food and Drug Administration big shots, including Dr. Joshua Sharfstein, the agency's second in command. The FDA officials may get a little heat, too, but they appear to be mainly a warm-up act for the company's testimony.