House Committee Says J&J Is Dragging Its Heels On Recall Probe
Two weeks after a contentious Capitol Hill hearing into Johnson & Johnson's quality problems with children's medicine, the chairman of a House panel says the company is hindering the investigation.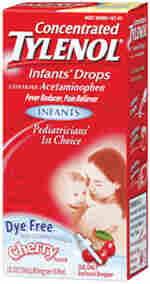 Rep. Edolphus Towns (D-NY) told the New York Times that J&J hadn't been forthcoming with the committee's investigation.
Other companies probed recently by the panel, including Bank of America and AIG, did a better job, he told the paper. "But we are not getting the kind of information and cooperation from Johnson that I would like," Towns told the Times.
In an e-mail to Shots, Bonnie Jacobs, a spokeswoman for J&J's McNeil unit, disputed that characterization:
We have been very cooperative with the Committee. We have provided about 20,000 pages of documents to the Committee. Every executive that the Committee asked to interview has been made available.
A spokeswoman for the House Committee on Oversight and Government Reform told us the "Chairman's comments stand."
At issue is how the company handled quality problems at a plant that made liquid medicines for kids, including Tylenol and Benadryl, and were recalled in late April. Another line of questioning concerns the company's handling of problems with adult-strength Motrin tablets and what the committee called a "phatom recall" of the medicines.