The Promise Of A Pain Free Delivery For The Needle-Phobic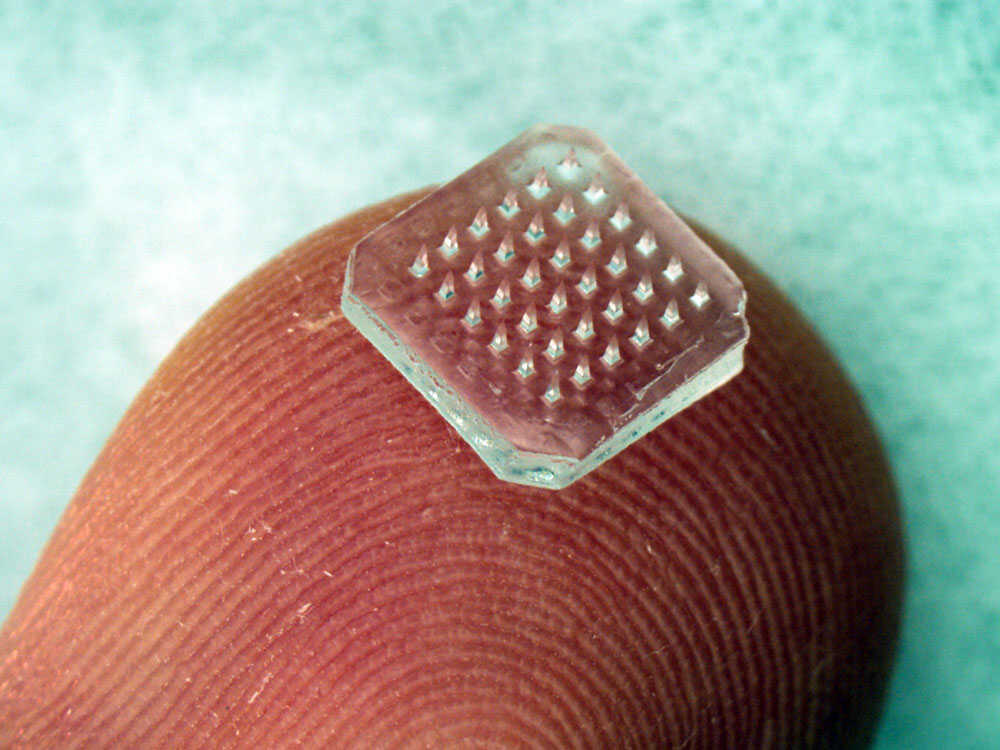 Jeong Woo Lee, Georgia Institute of Technology
If you dread the thought of getting jabbed in the arm every time you need a shot, or holding down a screaming kid who needs one, a new vaccine patch might be just what the doctor will order someday.
Now before you get too excited, the patch hasn't been used in humans, and probably won't be for a few years, but it could help conquer needle-phobias and make it cheaper and easier to vaccinate people.
Researchers at Emory University and engineers at the Georgia Institute of Technology successfully immunized mice using a patch made up of 100 "microneedles" containing a freeze dried version of the flu vaccine that dissolves into the skin together with the needles in just a few minutes.
The microneedles are just barely visible on the underside of the patch, and they don't hurt, says Mark Prausnitz, a chemical engineer who worked on the project.
The results were published in Nature Medicine.
In the long run, the mice vaccinated with the patch were better able to clear the flu virus from their bodies than the mice that got the needle.
Prausnitz explains that immune cells in our skin react differently upon meeting a pathogen compared to immune cells in our muscle.  Our bodies expect to encounter pathogens for the first time on our surfaces -- places like the skin, nose and digestive tract.  That's why a microneedle patch that delivers a vaccine directly to the skin may work better than an injection.
The invention still has a ways to go before it can be used in people. But Bruce Weniger, a researcher in the Influenza Division at the CDC, thinks that the idea holds promise for the developing world.
A patch that's easy to dispose of and takes up little space could help global efforts to eradicate diseases like polio, especially if a smaller dose of the vaccine can be used through the patch method, Weniger told Shots.
Prausnitz says it'd be much easier if people could either vaccinate themselves or have someone less skilled vaccinate them instead of requiring a doctor or nurse. If the patches are one day approved by the FDA, Prausnitz envisions people ordering patches through the mail or at their local pharmacies.
"The technology is ready to take the next step into humans," says Prausnitz. "Our main barrier is getting funding."