Consumers Still Skittish About Gulf Seafood : Shots - Health News Restaurants took the word Gulf off their seafood menus right after the spill, but say they are willing to put it back on once the government declares Gulf seafood safe.
Consumers Still Skittish About Gulf Seafood
Consumers Still Skittish About Gulf Seafood
Consumers Still Skittish About Gulf Seafood
Consumers Still Skittish About Gulf Seafood
The oil well's essentially been plugged. The National Oceanic and Atmospheric Administration has reopened large swaths of Gulf Coast waters to fishing. Andt he Food and Drug Administration said last week that fish from specific state waters are safe to eat.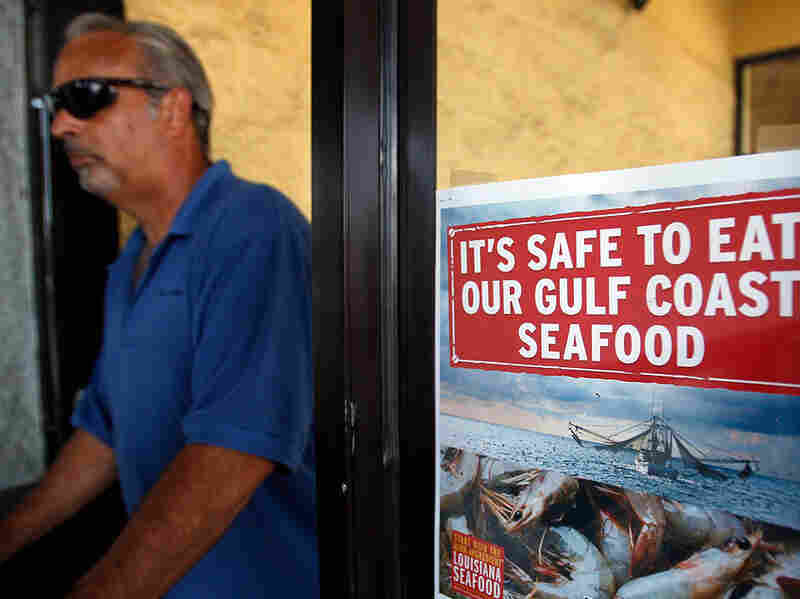 So why aren't people eating it?
"It's a perception challenge more than anything else," seafood promoter Ewell Smith told Morning Edition Host Steve Inskeep today. Our survey and those of others concur.
Smith, who heads the Louisiana Seafood Promotion & Marketing Board, says despite the fact that Gulf seafood is receiving more scrutiny than ever, people see the computer image of gushing oil 24 hours a day, and they draw their own conclusions.
Tom McEachern, top chef at seafood-centric Ray's on the River in Atlanta put it bluntly to Morning Edition Host Renee Montagne:
After the spill, he said, "we literally removed the word 'Gulf' from our menu, we also removed the oysters that we were serving from the Gulf from our menu."
Partly because he just can't get Gulf oysters, and partly because his customers are concerned about the potentially lasting problems with contamination in the beds and the marshlands where oysters hang out.
"We could have ruined those beds for 10 years," McEachern said.
For the record, an FDA spokeswoman told Shots the agency has not made a blanket declaration that Gulf seafood is safe.
"We are working with NOAA and the states to systematically test the water and the seafood from areas designated in proposals submitted by the states," she said.
But she added, there's no time line yet on oysters. "Oysters are going to take longer. They're filter feeders. They're not able to move away from affected waters the way fin fish will be," she said.
McEachern said he was willing to put them back on the menu if FDA gives the OK.
"I think you need to support those people that are fishing there before we cripple an area or cripple a town that does this for a living," he said.
What is a big problem for Gulf oysters might be a boon for East Coast ones. Ray's On The River is now offering oysters from Chincoteague, Virginia.
But they taste different.
"So our Oysters Rockefeller, some who enjoy that fresh sea salt love it, and some of those who aren't used to that high salinity are complaining," he said.