Doctors Are Slow To Prescribe Pill To Prevent Prostate Cancer
A generic drug called finasteride reduces the risk of prostate cancer by 25 percent, according to a 2003 study of 18,000 men.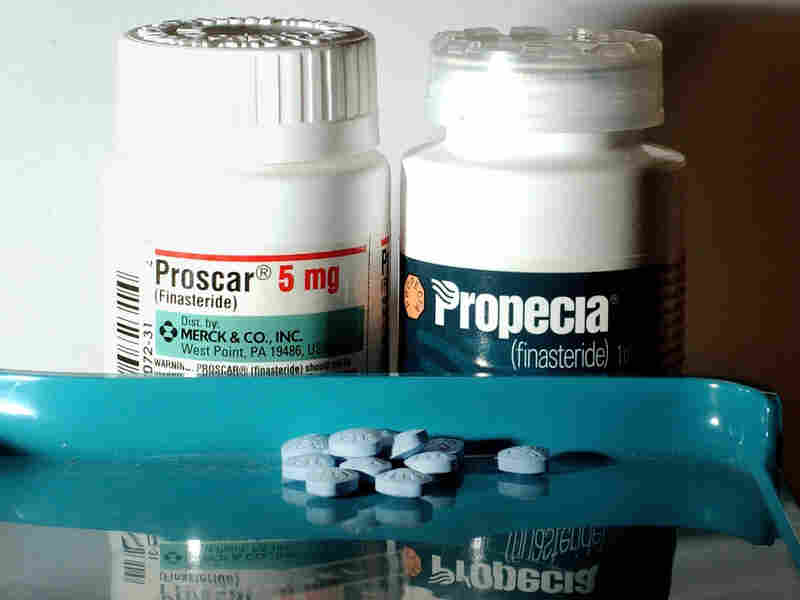 But doctors apparently don't believe it, misunderstand the findings, or just don't know about it.
Almost two-thirds of urologists and 80 percent of primary care doctors in the Veterans Health Administration system, say they never prescribe finasteride to prevent prostate cancer. The survey, involving 1,525 doctors, appears in Cancer Epidemiology, Biomarkers and Prevention.
When researchers asked them why, half said they didn't know the drug could prevent prostate cancer. And more than half said they were worried that men taking finasteride had a higher risk of developing more aggressive tumors.
That second concern arises from the first results of that 2003 study, called the Prostate Cancer Prevention Trial. It seemed to show that finasteride, which blocks the cancer-stimulating effects of testosterone, lowered the overall rate of prostate cancer by 25 percent but increased the risk of more dangerous tumors by 27 percent.
But in 2008, the researchers refuted from that finding, after looking more closely at the data along with biopsies of the tumors that occurred during the study. The new analysis showed finasteride didn't really raise the risk of high-grade tumors, it just makes tests for tumor grade more sensitive.
Apparently, many doctors haven't caught up with the newer study, says Dr. Ian Thompson of the University of Texas Health Science Center, who conducted the 2003 study and the 2008 reanalysis.
"People tend to read editorials more than they read actual journal articles," Thompson said. The editorial accompanying the 2003 study highlighted the apparent paradox that was later proven false.
The number of finasteride prescriptions has grown over the past few years, presumably because the drug shrinks enlarged prostates and relieves urinary symptoms of benign disease. The generic form of the medicine, originally sold as Propecia to combat baldness and Proscar to treat enlarged prostates, can now be had for about $70 a month.
But Thompson thinks more doctors ought to prescribe the drug to prevent prostate cancer, the second-leading cause of cancer death among men after lung cancer.
A fundamental difficulty is that there's no easy way to measure the effect of a cancer-prevention drug. When doctors prescribe statins, Thompson notes, they and their patients can see the resulting drop in cholesterol — an accepted marker for lower heart attack risk.
"With a cancer chemoprevention agent, you cannot measure success except with the absence of cancer, which you weren't expecting to get anyway," Thompson says.
Dr. Linda Kinsinger of the Veterans Health Administration, who led the new survey, agrees, "The concept of chemoprevention is a difficult one for physicians and patients."