Allergan Settles Charges It Went Too Far Marketing Botox
When you hear about Botox, the temporary wrinkle remover, you might think about Hollywood stars or even how the local doctor, dentist's office or spa has begun offering shots of the stuff, too.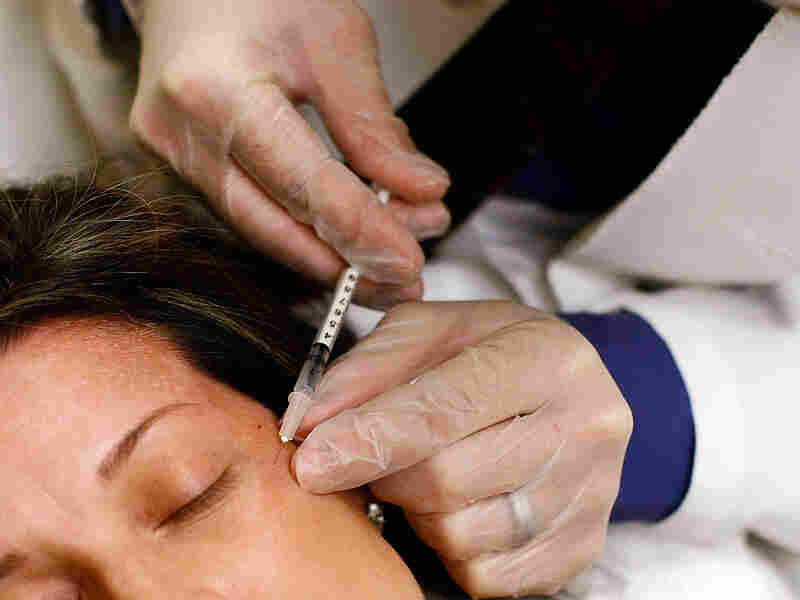 But the selling of Botox has gone far beyond cosmetics. And Allergan, the drug's maker, has just agreed to settle federal charges and pay the government $600 million in fines.
First, Allergan will plead guilty to marketing Botox between 2000 and 2005 for uses the Food and Drug Administration hadn't approved. And those uses were anything but cosmetic. The company allegedly encouraged doctors to give Botox shots for treatment of headaches, pain, spasticity and juvenile cerebral palsy.
The price to Allergan for putting that charge behind it is a criminal guilty plea and a $375 million fine.
The FDA has approved most of the uses since the time Allergan was touting them off-label, but treatment of chronic migraine pain is still under review.
Botox, a pharmaceutical version of botulinum toxin, works by blocking nerves that control muscles. In cosmetic uses, the blocked nerves cause muscles to relax and that, in turn, helps reduce wrinkles for a few months. For other conditions, the medicine can prevent muscles from going into spasms, becoming stiff or causing pain.
Allergan denied civil claims that its selling of Botox led to overbilling of federal health programs, including Medicare and Medicaid. But it's paying $225 million to settle them in any event.
At a media briefing, federal officials said the company had beefed up its reimbursement department to help train doctors in billing the government for unapproved uses of Botox. The company also allegedly paid kickbacks to doctors, sometimes under the guise of educational grants.
The government's case got rolling when people who had worked for Allergan on off-label promotion filed sealed lawsuits laying out the scheme. See the details starting on page 8, for instance.
One noteworthy twist in the Botox case is that Allergan agreed to withdraw a lawsuit challenging the FDA's authority to regulate off-label marketing.
FDA Commissioner Margaret Hamburg said the agency was pleased by that decision, adding "The off-label promotion of drugs threates the public health and the regulatory framework of FDA."
Finally, the feds pointed out that $600 million is a lot of money and should serve as a deterrent to this sort of behavior in the future. Still, the settlement is nowhere near the $2.3 billion settlement agreed to by Pfizer almost exactly a year ago.
On the other hand, Allergan is paying $50 million more than the $550 million Goldman Sachs shelled out to make federal claims of investor fraud go away.