Grow Your Own Vegetables, City Dwellers, But Do Mind The Lead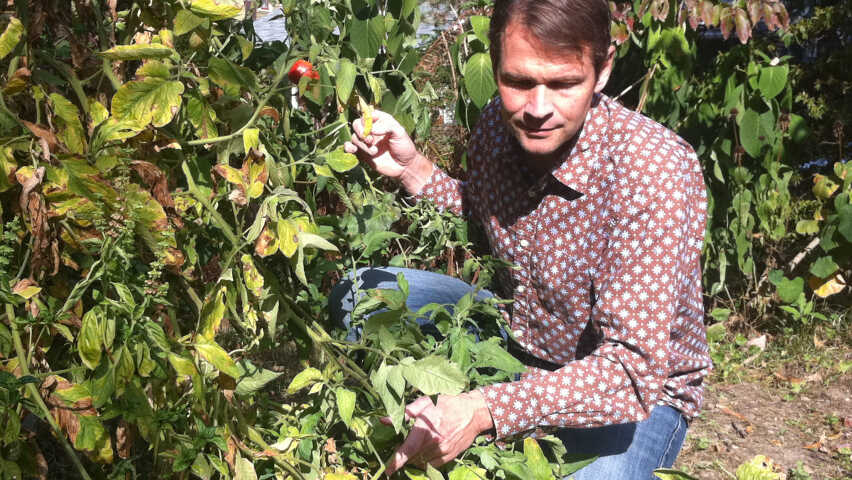 Those baby lettuces growing in the downtown community garden are lovely to look at but are they safe to eat?
Research by geochemist Gabriel Filippelli at Indiana University-Purdue University Indianapolis has found that soil in abandoned urban lots claimed by gardeners in industrial cities like Baltimore, Brooklyn, Detroit and Indianapolis is sometimes contaminated with lead.
Indianapolis has about 80 urban gardens managed by community members, not including personal backyard gardens, Filippelli says. About half the community gardens are at risk for lead contamination.
Though the heavy metal lead is largely gone from our gasoline and paint, it still lies insidiously below us in the ground and occasionally drifts through the air as dust.
Downtown land near major streets, freeways, dilapidated buildings with lead paint or aged industrial facilities is most likely to have it. It's also sometimes found in drinking water after it flakes off from old pipes.
The health effects of lead can be serious, especially for children. High levels of lead (at least 10 micrograms of lead per deciliter of blood) can lead to brain and nervous system damage, behavioral and learning problems and sluggish growth. Adults can also experience neurological and gastrointestinal problems from lead exposure.
In many cities, leaded soil does little harm, unless you dig or plant food in it. Filippelli says fruits and vegetables don't absorb lead, but it binds to the skin of root vegetables -- potatoes or carrots, for example -- or greens like lettuce that grow close to the ground. Even the most thorough of scrubbings may not remove it.
But eager urban gardeners need not fear. Just get the facts and take precautions.
The first step is testing soil for lead. The local health department may be able to do that test. Some cities with longstanding lead problems have put together maps that show soil lead contamination.
If your soil has more than 200 parts per million of lead, Filippelli recommends covering all exposed soil with at least three inches of mulch and planting food in raised beds filled with clean topsoil.
Should the prevalence of lead in city soils discourage communities and schools from building gardens in urban wastelands? Not at all, he says.
"Urban sustainability is critical to the future of a lot of cities and urban gardens can be a safe part of that," Filippelli says. Will cities like Brooklyn or Baltimore ever get around to removing all the lead in their soil? It's unlikely when soil remediation can run into millions of dollars per acre. But gardens help solve the larger problem: mulching reduces the ambient lead load in neighborhoods because the soil can't blow around.