GOP Unveils Plan To Remake Medicare And Medicaid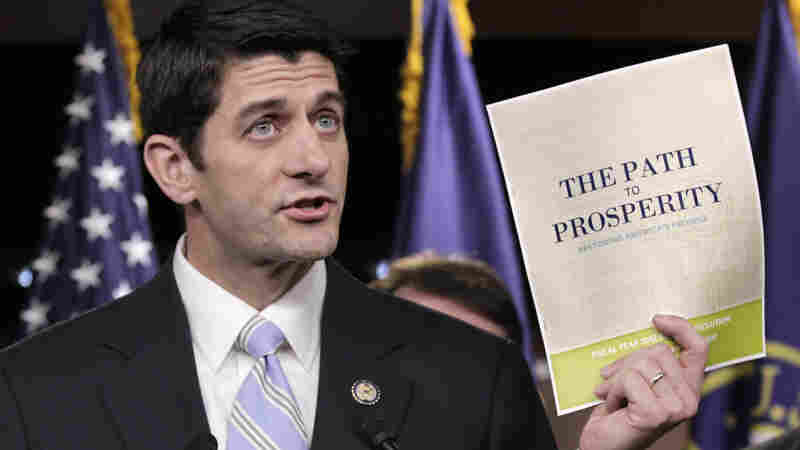 The GOP's health care cat is now fully out of the bag. And it's a big one.
All told the Republicans say their stingier federal budget would save $6.2 trillion over the one President Obama wants. The GOP roadmap, as expected, proposes big changes for Medicare and Medicaid.
Rep. Paul Ryan, chairman of the House Budget Committee, and his Republican colleagues were busy stumping for their plan to rein in federal spending government today.
It would switch people under 55 to a system of private Medicare insurance that would be subsidized by the federal government. Individuals would pick a government-approved plan rather than a program run by the government. "We want to harness the power of patient choice — of competition — on behalf of future seniors in Medicare," Ryan said in a news briefing.
He said the Republican's plan would work a lot like the part of Medicare that already covers prescriptions medicines. The government would defray some of those costs, or provide what's sometimes called premium support. "We propose we support people more if they're low income, more as they get sick," Ryan said. "And wealthy seniors," he said, "don't get as much support." The change would save Medicare a lot of dough, the Republicans say.
The GOP would also change Medicaid pretty dramatically. Their plan would give states a fixed pot of money in the form of block grants to pay for Medicaid, health coverage for the poor. The approach would also have the effect of reducing Medicaid spending.
Oh, and the GOP would, if you've forgotten, also do away with the Democrats' sweeping health overhaul law.
Defenders of the current system were quick to criticize the Republican proposal. "This will do terrible damage to Medicare and Medicaid and all the people who have paid into those programs," said Rep. Chris Van Hollen (D-MD), ranking member of the House Budget Committee.
In a statement, Democratic Senator Debbie Stabenow of Michigan blasted the Republican plan as "a thinly veiled attempt to dismantle Medicare for tens of millions of Americans." Sure, reducing the deficit is important, she said, "but we should do that by holding government accountable and eliminating programs that aren't working, not by putting all of the burden on middle class families and seniors." She said the plan would never pass in Senate.
Just about every health interest group has chimed in, too. None whose constituents are in the business of providing care seem pleased.
Take, for instance, the Federation of American Hospitals, which represents for-profit institutions. The group is particularly concerned about Medicaid cuts. "We understand that reforms are to be expected," Chip Kahn, CEO of the group said in a statement. "Yet, as we all join in reform, we must not undermine the critical role that our nation expects of its community hospitals, clinicians and other health care providers."