Many Kids With Head Injuries May Not Need CT Scans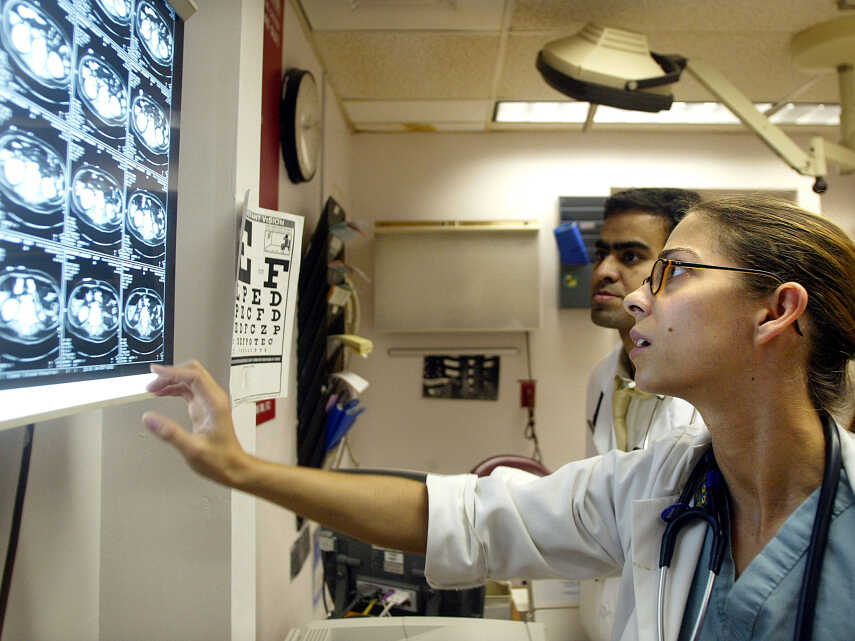 Using CT scans to diagnose head injuries in children may needlessly expose them to radiation. And the scans also don't catch minor injuries any better than observing the child, according to a new study in the latest issue of Pediatrics.
But good luck getting your local emergency room to back off of them. They've become the go-to test for quickly diagnosing soft-tissue injuries, like bleeding on the brain, that won't show up in an X-ray.
And half of all children who go to an emergency room with a head injury now get CT scans, according to Lise Nigrovic, an attending physician in the emergency room at Children's Hospital Boston who led the study.
She asked ER doctors at 25 hospitals to record whether they observed a child with a head injury first rather than ordering up a CT. The children who were observed for four to six hours were half as likely to have a CT, compared to children who were not observed for symptoms.
The use of CTs, or computerized tomography, has increased in ERs nearly six-fold since 1995, according to research published last November in Radiology. Every hospital worth its salt has a CT scanner, the pictures it makes are beautiful, and insurance probably covers them, even though a scan can easily run $1,500.
The downside: A CT exposes a person to far more radiation than an X-ray, and that radiation exposure increases a person's risk of cancer years later. That's a particularly big issue with children, who have a lifetime of medical tests ahead of them.
Their cells are also still dividing rapidly, making them more vulnerable to radiation's health risks.
Just 14 percent of the doctors in the study observed children's symptoms first, Nigrovic found. And they didn't miss injuries any more often than did the docs who scanned first.
"So there wasn't a danger to those patients," Nigrovic told Shots. "I hope that they'll see that if they observe symptoms they can avoid a CT scan."
She's hoping both doctors and parents will be hip to the fact that CTs aren't always required, particularly since they can't diagnose concussion, a common head injury in children. "If you can explain that you will observe their child in the ER and try to avoid a potentially dangerous scan, they're on board with that," she says of the parents she sees in the ED.
And getting doctors to change their quick-to-scan ways? "It's slowly chipping away over time," Nigrovic says.