A single-shot treatment to protect infants from RSV may be coming soon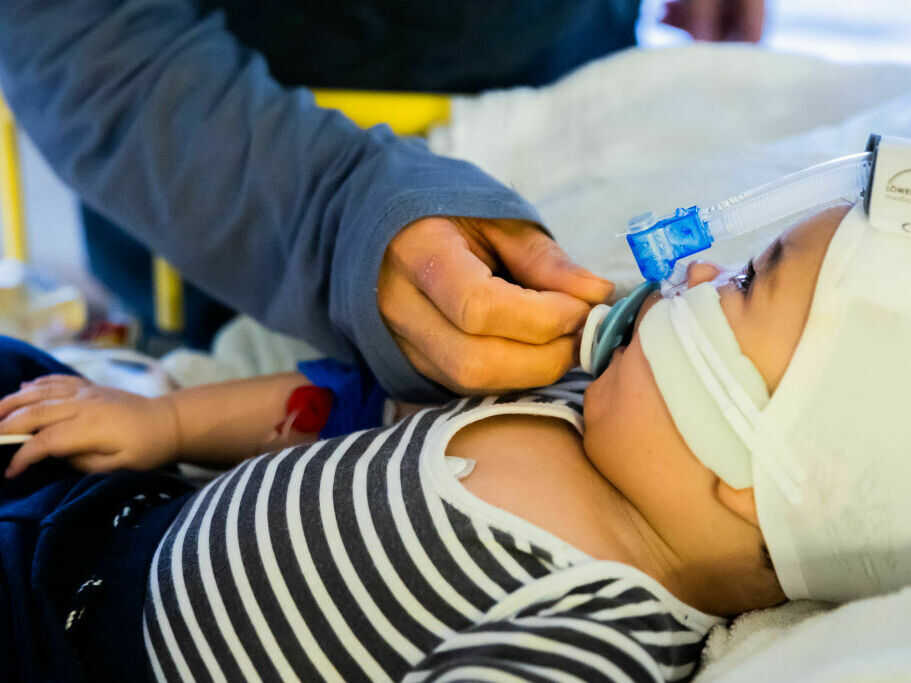 Christoph Soeder/dpa/picture alliance via Getty I
Cheryl Meany, a high school teacher from Camillus, N.Y., was excited when she learned she was carrying twins in 2014. But her joy quickly turned to worry as doctors flagged several health concerns, including possible brain lesions.
So she needed a moment to process when her husband, a respiratory therapist, proposed enrolling the soon-to-be-born babies in an experimental study for an unrelated illness. It was a trial for a protective treatment for RSV or respiratory syncytial virus, a common respiratory virus that can be quite severe in young children.
"It took me aback, like 'What are you even talking about? I don't even know what you're asking me right now,'" Meany said.
That was in 2014, several years before the recent RSV surge overwhelmed hospitals across the country. But Meany was worried about the illness back then after seeing some of her friends' kids end up in the hospital from it. Up to 80,000 children under 5 are admitted for RSV each year.
So she enrolled her daughters in the trial for a monoclonal antibody that works to prevent RSV-induced lower respiratory tract infection in infants. Her decision helped move forward one of the most promising treatments to protect babies from severe impacts of RSV in decades.
In January, drugmakers AstraZeneca and Sanofi announced the U.S. Food and Drug Administration is officially reviewing their application to get the treatment – called nirsevimab – approved in the U.S., including results from the trial the Meany twins joined.
AstraZeneca said its third phase trial results showed its single-dose treatment was nearly 75% effective at preventing severe infection in babies throughout an RSV season. The data was published in March 2022 in the New England Journal of Medicine.
Dr. William Schaffner, medical director at the National Foundation for Infectious Diseases who was not involved in this research, said the results suggest nirsevimab could significantly reduce the numbers of babies that are hospitalized each year for RSV.
"The potential impact in assuring a healthy infancy for a very large proportion of the infants born here in the United States — and even beyond — is potentially very, very large," Schaffner said.
A form of 'passive immunization'
The drug – a long-lasting antibody injection – is intended for newborns or other infants facing their first RSV season, and for babies up to 24 months of age in their second RSV season, according to AstraZeneca's press release.
Dr. Joseph Domachowske, a pediatric infectious disease specialist at Upstate Medical University Hospital in Syracuse, helped launch the earliest phase of the nirsevimab study.
"RSV is the number one reason why infants and young children are hospitalized, not just in the U.S., but across the world," he said.
He explained that the antibody treatment is not a vaccine but is what scientists refer to as "passive immunization." The antibodies against RSV circulate in the infants' bodies protecting against the virus, should the child be exposed.
"It doesn't cause an immune response itself," he said, and it also doesn't cause the body to develop immune memory. "But it provides protection for a period of time until it wears off," he said. A similar type of treatment was used to help protect immunocompromised patients against COVID.
Domachowske, who also led the hospital's COVID-19 vaccine trial for kids, expects a greenlight from regulators in time to have nirsevimab available by the next RSV season in the fall. It has already been approved in Europe.
Long journey to an effective treatment
When Meany's daughters got their injections in January 2015, they were the first babies in the world to receive it, according to AstraZeneca.
Domachowske, a Meany family friend, said giving the twin babies protection against RSV was a significant moment after researchers had struggled for years to find a treatment to prevent RSV. Back in the 1960s, a different treatment, a vaccine candidate, was under study. But it made kids sicker from RSV – and two babies died from it.
"It really charged up the wrong half of the immune system," Domachowske said.
Progress didn't come until two decades later. In 1998, the FDA OK'd a monoclonal antibody for premature and high-risk babies. But Domachowske said changing medical guidelines since then have severely limited eligibility for this treatment, and, he said, its efficacy wasn't great.
"It has to be given monthly," Domachowske said. "And it's effective at preventing hospitalization, not effective at preventing infection."
That's where the research had been stuck for years until 2014, when Domachowske attended a medical conference in Argentina. A featured speaker dropped a massive discovery that a lot of RSV research focused on the wrong protein.
"Everyone is sitting there staring with their mouths gaping open like, 'This is why all of our work hasn't led to anything for decades," Domachowske said. "It was that impressive. And you can see the pharma people that were attending, taking notes, calling their colleagues saying, 'Stop, stop the work.'"
Not too long later, he injected Meany's daughters with an improved, longer-lasting monoclonal antibody that protects babies through an RSV season with one shot.
The twin girls, Cassidy and Stella, are now 8 years old and like to compete in ninja warrior contests — they race through obstacle courses that feature ladders, monkey bars and overturned Bosu balls.
Meany said the girls never had complications from the shot and never displayed symptoms of RSV. She is proud of the role they played in medical history.
"This matters, and this matters for kids everywhere, not just kids here,'" Meany said.
Domachowske said the girls may have gotten RSV in later seasons after the effects of the treatment had worn off. But since older children's immune systems are stronger, symptoms weren't noticeable.
A welcome RSV prevention tool
Physicians and infectious disease specialists welcome the potential approval of the treatment.
Schaffner of the National Foundation for Infectious Diseases said if it were already approved in the U.S., nirsevimab would've helped curb the high rate of infections seen this season, one of the worst recent seasons for the disease.
"This recent surge would have been remarkably blunted," he said.
Dr. Vandana Madhavan, clinical director of pediatric infectious disease at Mass General for Children said the monoclonal antibody is a significant achievement in the fight against RSV.
"This is a huge step forward," she said.