On Air: Blanche DuBois
» Hear the 'Weekend Edition Saturday' radio commentary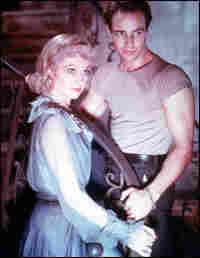 I love that the streetcar never gets mentioned again. (Unless I'm forgetting something; y'all correct me if I'm wrong.)
It shows up in Blanche's opening lines: "They told me to take a streetcar named Desire, and then transfer to one called Cemeteries and ride six blocks and get off at Elysian Fields." And that's the last we hear of it.
But oh, how much distance that streetcar travels: Desire, that irrepressible impulse of the living, stops at Cemeteries, and our bruised but indomitable heroine ends up in Elysian Fields. New Orleans landmarks, all of them, but metaphors, too: the Elysian Fields is the resting place of dead heroes in Greek myth, and Blanche DuBois is nothing if not grand enough, mad enough to be a mythical character.
And yes, her struggle — the entire arc of the play — is nothing less than the struggle of individual vitality against universal entropy, which makes it at once magnificent and banal, ordinary and extraordinary. What makes it magic is Tennessee Williams' incomparable language, those purple prose-poems knitting the stuff of life and death together.
In today's installment of In Character, NPR's Lynn Neary asks why Blanche DuBois is such a tantalizing role — and such dazzling actresses as Shirley Knight, Rosemary Harris, Laila Robins and Glenn Close offer answers.
Enjoy.