Your Turn: Matilda Wormwood
From the novel Matilda, by Roald Dahl
and movie of same name
Nominated by Sydney Meader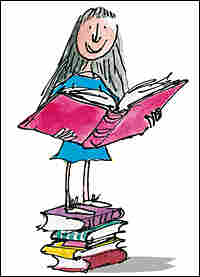 Matilda Wormwood didn't have an easy childhood. The daughter of the wicked Harry and Zinnia Wormwood, Matilda was neglected and forced to bring herself up into a cruel world filled with rude big brothers and evil school principals. With no one to turn to in the real world, Matilda turned to books. A brilliant child, Matilda could read by the age of 3 -- and was reading literature by 4.
When I was first introduced to Matilda, I was immediately intrigued by her. As a 7-year-old, I thought she was the most amazing person in the world. Smart, brave, and kind, she was exactly the kind of girl I wanted to be. It didn't hurt that she had magical powers and was triumphant in her fight against the monstrous Miss Trunchbull.
Never in my life have I felt as much admiration towards another character as I did towards Matilda Wormwood.