President Obama Talks Christianity And More In NM Backyard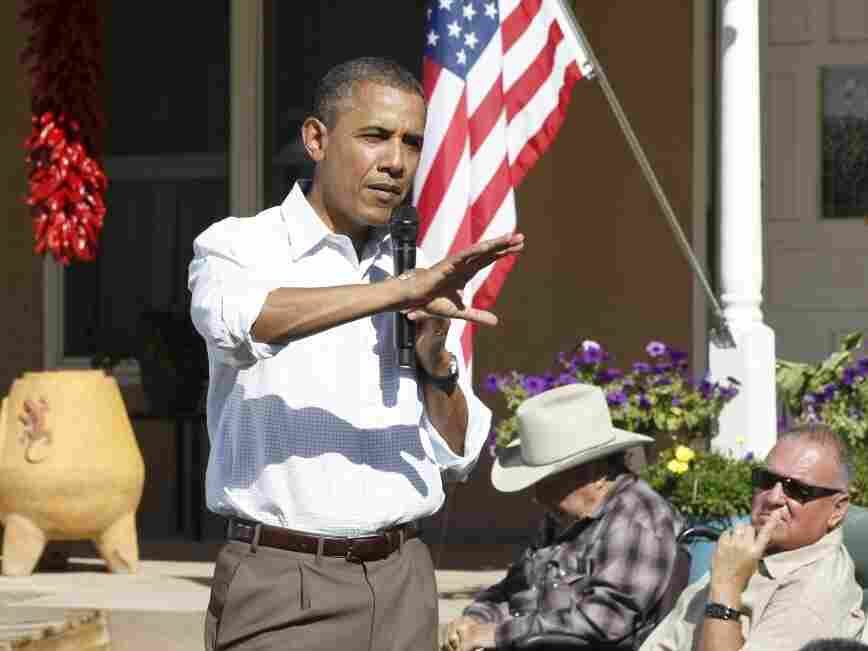 President Barack Obama was in another backyard Tuesday, this time at the Albuquerque, NM home of the Cavalier family. (It was a Falls Church, VA backyard last week.)
These visits are, of course, meant to show the president mingling with everyday Americans.
They're an attempt to shake the notion that the cerebral president isn't able to connect with everyday people by showing him doing just that.
On Tuesday, a tie-less Obama stood at the rear of an exurban home, some hanging, drying red peppers behind him. Definitely an outside-the-Beltway moment.
It's also about trying to help congressional Democrats as much as possible by sending the president to places where an appearance could energize local Democrats enough to help get out their vote and reduce congressional losses. Such presidential visits are typically big news in local media markets.
White House aides in various administrations talk of the importance in getting presidents beyond the White House bubble, especially when things aren't going well.
It lets the president get into campaign mode, a place where most presidents are comfortable.
Presidents also get to feel the love of their supporters. After all, as bad as things are for Obama, more than 40 percent to almost half of the nation's voters still support him, according to which poll you believe.
On Tuesday, Obama got to feel some of that love. One man who attended the backyard discussion thanked the president for helping to save his home.
MAN: ...I am one of those persons that has been helped by that modification program on my house.  And I want to say thank you because it has helped my family, and I'm one of the persons that it has helped.  And I want to say thank you.

THE PRESIDENT:  That's great.  I appreciate that.
The man presumably was talking about the Home Affordable Modification Program which many people have deemed a failure for helping too few homeowners.
A woman threw the president a slow-pitch of a question -- "Why are you a Christian? she asked.
That allowed Obama to once again state his Christian bona fides in an attempt to beat back the Doubting Thomases, including those who insist he's a Muslim:
THE PRESIDENT:  You know, I'm a Christian by choice.  My family didn't -- frankly, they weren't folks who went to church every week.  And my mother was one of the most spiritual people I knew, but she didn't raise me in the church.

So I came to my Christian faith later in life and it was because the precepts of Jesus Christ spoke to me in terms of the kind of life that I would want to lead -- being my brothers' and sisters' keeper, treating others as they would treat me.

And I think also understanding that Jesus Christ dying for my sins spoke to the humility we all have to have as human beings, that we're sinful and we're flawed and we make mistakes, and that we achieve salvation through the grace of God.  But what we can do, as flawed as we are, is still see God in other people and do our best to help them find their own grace.

And so that's what I strive to do.  That's what I pray to do every day.  I think my public service is part of that effort to express my Christian faith.  And it's -- but the one thing I want to emphasize, having spoken about something that obviously relates to me very personally, as President of the United States, I'm also somebody who deeply believes that the -- part of the bedrock strength of this company is that it embraces people of many faiths and of no faith -- that this is a country that is still predominantly Christian.  But we have Jews, Muslims, Hindus, atheists, agnostics, Buddhists, and that their own path to grace is one that we have to revere and respect as much as our own.  And that's part of what makes this country what it is.
Fortunately for the president, he wasn't asked a follow-up on where he stands on thornier issues of Christian faith, say infant baptism, on which Catholics and many Protestants don't exactly see eye to eye. (Although his "Christian by choice" formulation would seem to suggest he believes like many Protestants that you have to be old enough to choose Jesus as your "personal Lord and Savior" for it to really matter.)
The events allow the president to showcase his empathy, as when he hugged the son of Andrew Cavalier whose house was the setting for the event.
The son, also named Andrew, got emotional as he asked the president planned to do for veterans like his father, an ex-Marine, who aren't getting the care they need.
CAVALIER: I really didn't want to do this on TV.

THE PRESIDENT:  That's all right.
The backyard tour may prove to be too little, too late for congressional Democrats. But there's always something engaging, no matter the White House occupant, about a president showing up at an average citizen's house and backyard.
So it shouldn't surprise any of us if we see the president once again bouncing from one back yard to another during the 2012 re-election campaign.