Florida's Rubio-Crist-Meek Senate Debate No Game Changer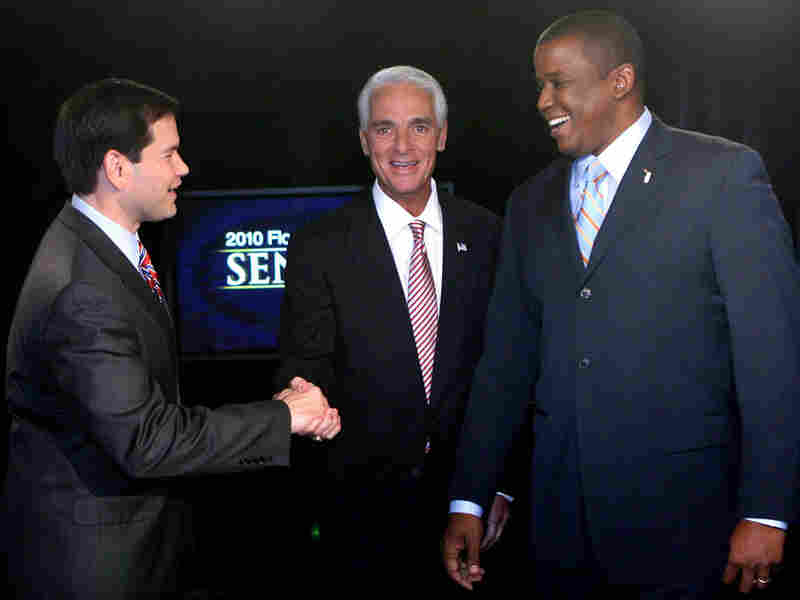 With Republican Marco Rubio apparently holding a significant lead in Florida's three-way race for a U.S. Senate seat, his Democratic and independent opponents might be hoping to get some help from a damaging Rubio stumble in their debates.
In short, they needed a game-changer.
But Rubio apparently didn't make any major missteps in the first of three scheduled debates between the Republican who's supported by the Tea Party movement, and Gov. Charlie Crist, an independent who formerly ran as a Republican, and Democrat Rep. Kendrick Meek.
Rubio portrayed both Crist and Meek as supportive of "Washington," something of a curse word among many of his backers. As expected, Crist and Meek took turns attacking the frontrunner.
But Meek also trained his attacks on Crist who he portrayed as squishy on the issues. That was aimed at exploiting the governor's vulnerability to charges that he tacks whichever way the political winds are blowing.
Crist, meanwhile, continued his attack on Rubio who he has for months portrayed as too extreme for Florida.
And while not frontally attacking Meek, which could backfire with some African-Americans if the governor was seen as beating up a fellow African American like the congressman, Crist continued to subtly make the case that Meek can't win.
NPR's Greg Allen provided a sense of the debate for Morning Edition. From the NPR.org story version of his radio report:
"It's abundantly clear to me that there's an extreme right faction in the Republican party," Crist said. "I'm the only candidate who can both win in November and crash that Tea Party in Washington.

To do that though, Crist has to do well among Democrats, Republicans and Independents. This week, Crist launched a new ad attacking Rubio for his proposal to raise the Social Security retirement age, forcing people to "work longer, get by on less."

Rubio fired back, saying Crist was twisting the facts. Rubio said his proposal to raise the retirement age to 70 wouldn't affect anyone currently over 55.

"One of those seniors, Governor Crist, that's out there, is my mother," Rubio began. "She's 80 years old this month. She depends on Social Security. It is her primary source of income. And for you to suggest that I would somehow advocate ideas that would harm her is outrageous, and a blatant untruth."