Obama Fought Washington And It Won: NYT Mag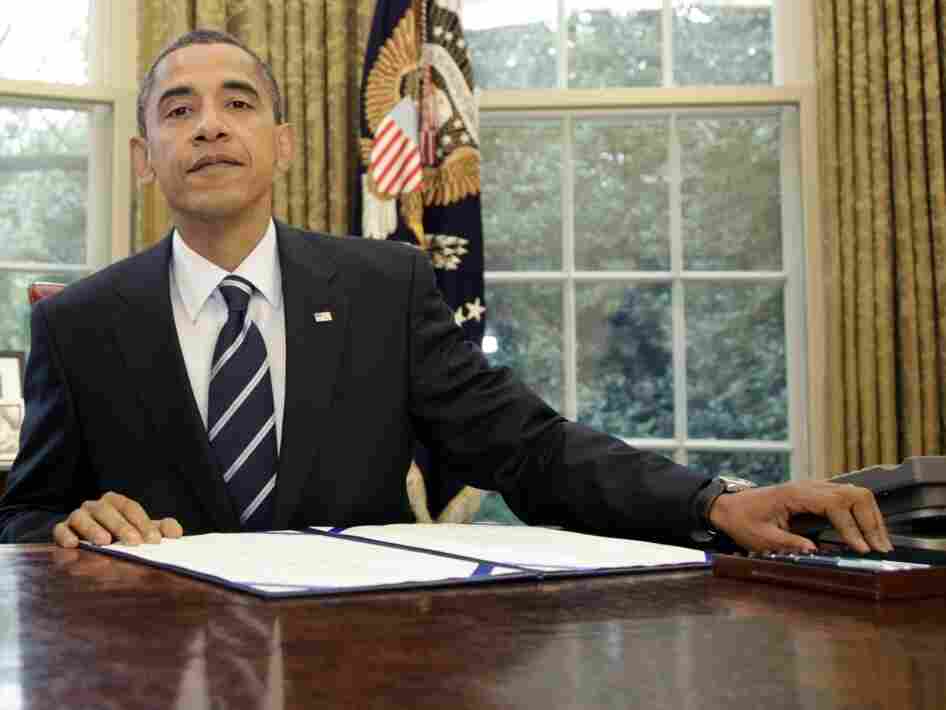 President Obama really expected he would be able to change Washington, it wasn't just campaign rhetoric.
And some in his White House expect the 2012 Republican presidential nominee will be Mike Huckabee.
Those are two of the most salient elements from Peter Baker's New York Times Magazine piece on Obama before the midterms.
Baker writes:
While proud of his record, Obama has already begun thinking about what went wrong — and what he needs to do to change course for the next two years. He has spent what one aide called "a lot of time talking about Obama 2.0" with his new interim chief of staff, Pete Rouse, and his deputy chief of staff, Jim Messina.

During our hour together, Obama told me he had no regrets about the broad direction of his presidency. But he did identify what he called "tactical lessons." He let himself look too much like "the same old tax-and-spend liberal Democrat." He realized too late that "there's no such thing as shovel-ready projects" when it comes to public works. Perhaps he should not have proposed tax breaks as part of his stimulus and instead "let the Republicans insist on the tax cuts" so it could be seen as a bipartisan compromise.

Most of all, he has learned that, for all his anti-Washington rhetoric, he has to play by Washington rules if he wants to win in Washington. It is not enough to be supremely sure that he is right if no one else agrees with him.
This may be one of the most interesting revelations about Obama and his team from all the White House reportage over the first two years. They apparently actually believed they could remake hyper partisan Washington. No, really.
And now that their idealism has been shattered, it appears from Baker that many White House staffers are bummed out, with some within the administration seeming to believe this White House's best years are behind it.
Idealism in the White House is nothing new. Indeed, the last administration's political idealism extended well beyond Washington, with its belief that Iraq could be remade into a modern democracy and a beacon for the rest of the Islamic Middle East. Certainly, there were those of the realist school who counseled against such thinking.
Maybe what the Obama team needed were some more Beltway realists.
Of course, one of the things a reader tries to get out of a piece like this is some guidance about what the White House will do over the next two years. It appears it will, despite being sadder and wiser about how Washington works, attempt to work in a bipartisan way.
Baker writes:
Obama expressed optimism to me that he could make common cause with Republicans after the midterm elections. "It may be that regardless of what happens after this election, they feel more responsible," he said, "either because they didn't do as well as they anticipated, and so the strategy of just saying no to everything and sitting on the sidelines and throwing bombs didn't work for them, or they did reasonably well, in which case the American people are going to be looking to them to offer serious proposals and work with me in a serious way."
Obama doesn't explain why this should work when congressional Republicans would presumably be working to prevent his re-election.
Lastly, the White House aides Baker talked with who would hazard a guess about who the 2012 Republican presidential nominee would be are betting on Huckabee, the former Arkansas governor. Baker gives a bit of their thinking.
Obama's aides say they will most likely set up their re-election campaign around next March, roughly the same as when Bush and Clinton incorporated their incumbent campaign operations. They are more optimistic about 2012 than they are about 2010, believing the Tea Party will re-elect Barack Obama by pulling the Republican nominee to the right. They doubt Sarah Palin will run and figure Mitt Romney cannot get the Republican nomination because he enacted his own health care program in Massachusetts. If they had to guess today, some in the White House say that Obama will find himself running against Mike Huckabee, the former Arkansas governor.
Again, a piece worth reading that will likely be widely discussed.