Alaska's Joe Miller May Be Lisa Murkowski's Secret Weapon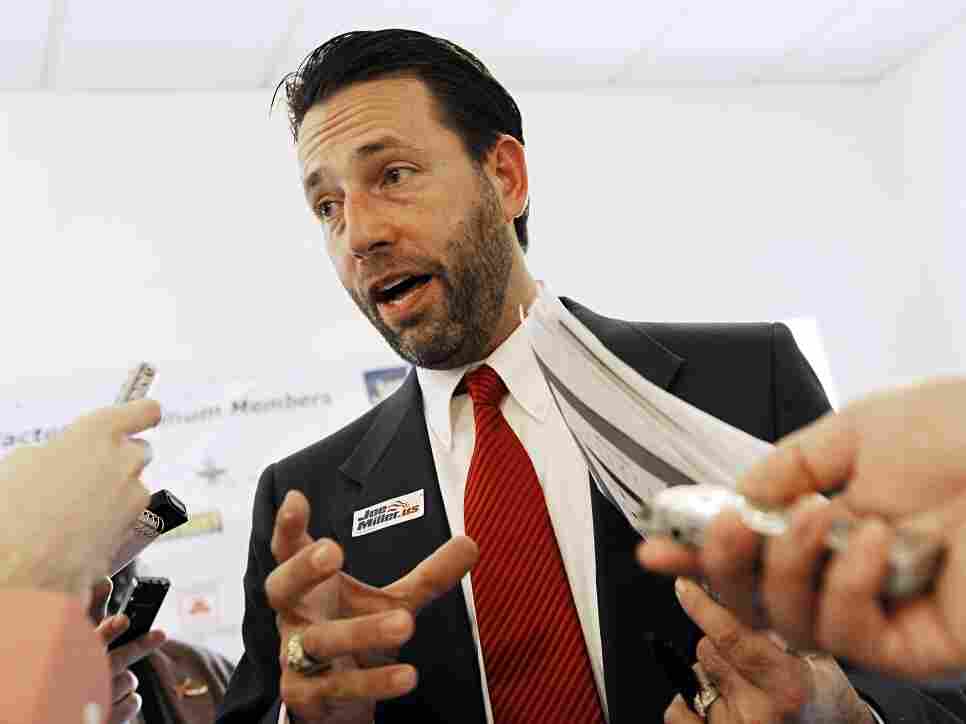 When Alaska's Sen. Lisa Murkowski decided to launch a write-in bid to remain in the Senate after losing the Republican primary, all the experts said it was a long-shot.
But they likely didn't count on Joe Miller, winner of the Republican primary, inadvertently giving Murkowski as much help as he has.
In just a few days, Miller, the Tea Party movement's choice, has given Murkowski the kind of assist a candidate in her situation could only dream of.
First, his security guards handcuffed a journalist after a Sunday town hall meeting held in a public middle school.
Then, Miller admits, kind of, sort of, that he got in trouble when he worked as a part-time lawyer for an Alaska municipality.
He told CNN's John King Monday that he did something during his lunch hour while on the job in 2008 that got him in trouble. But it was a fairly lawyerly admission with Miller not providing details.
You have to go elsewhere, for instance, the Anchorage Daily News, to get a clearer understanding of what happened.
Boiled down, the facts appear to be that while Miller worked as a lawyer for the Fairbanks North Star Borough in 2008, he used government computers in a government office to engage in politicking.
Specifically, he used the computers of fellow workers to vote in an on-line poll in which he hoped to oust the head of the Alaska Republican Party, replacing him with himself.
In an attempt to cover his tracks, he cleared the browser caches of his co-workers' computers but later admitted to what he did when people noticed the changes on their computers.
The Anchorage Daily News interviewed a Republican activist, Mike Rostad, who talked with Rex Miller, the Senate candidate's father, who provided details:
Rostad wrote in the e-mail that Rex Miller told him there was a poll being conducted as part of the effort to oust Ruedrich as state Republican Party chairman.

Here's how Rex Miller described what happened, according to Rostad's e-mail:

"One noon hour, on his own time at the borough, Joe participated in an online poll voting against Randy. He used four office computers in the office to do it, thinking this was his chance to boost numbers to get rid of Randy. He emptied the cache files on the computers so the users wouldn't know what he had done. When the users asked what had happened to their caches, (Miller) admitted to what he did. He was reprimanded and docked in pay for several days, but was not suspended or fired."

"Rex told me that his son called him that same day and admitted that he did a stupid thing. He said he was sorry. Joe was 'never in danger of being fired at any time,' Rex said," Rostad wrote in the e-mail.

Rostad told the Daily News in an interview that the e-mail is "pretty self-explanatory and I would really urge you to get ahold of the Miller campaign and talk directly to them."

He said he was aware, though, that the Miller campaign won't talk about it with Alaska media.
Murkowski's campaign took note on its web site of the Miller security team's detention of a reporter.
Nothing yet there, however, on Miller's lawyerly admission on CNN that something occurred while he worked as a municipal lawyer in 2008, or the details on the Cache-gate incident provided by ADN or other news sources.
But, again, with her opponent inflicting so much damage on himself, Murkowski may be heeding the age old political wisdom to not get in the way of a self-destructing opponent.