John Boehner: A Survivor And Reagan Conservative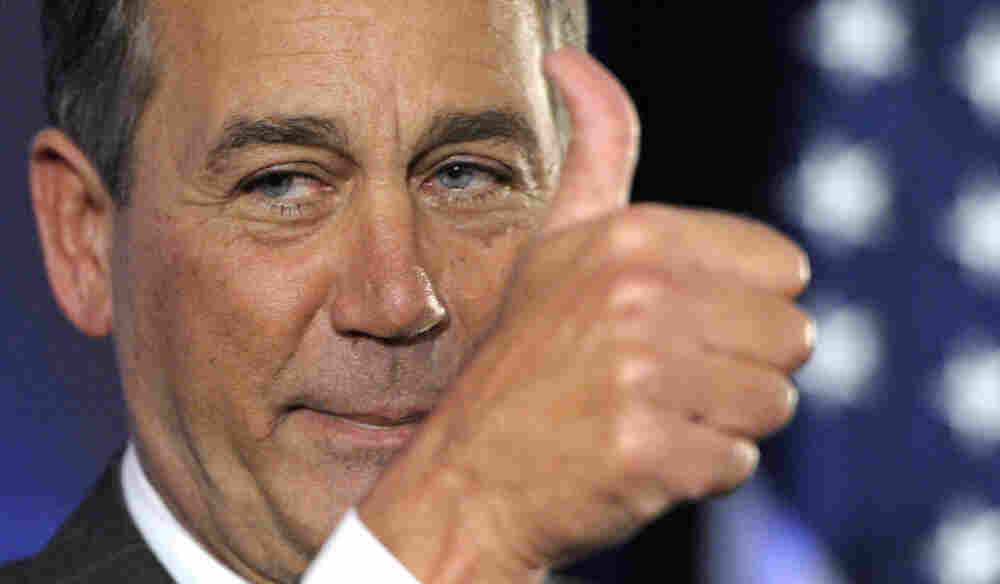 During the midterm elections campaign, President Obama tried to make Rep. John Boehner, the House Republican leader, an issue.
Some House Democrats complained, however, that the president's attacks were falling flat: Boehner just wasn't well enough known by voters for that to matter.
That's likely to change with Boehner expected to become House speaker.
On Thursday, Boehner's office issued a compilation of Boehner speeches with the title "Pillars of a New Majority" partly in an attempt to give voters some insight into the speaker-to-be's thinking. Not likely to be a classic like T.E. Lawrence's "Seven Pillars of Wisdom" but still useful.
There are no surprises to anyone who followed the midterm-election campaigns or the Republican criticisms of Democrats since Obama took office in 2009 or Democrats gained control of Congress in 2006.
But they could prove useful to voters who didn't pay that much attention. The speeches show Boehner to be a Reagan conservative who ascribes to limited government, lower taxes and spending and the Bush Administration approach on national security, including the way the previous administration handled terrorists.
Boehner's office, additionally, made public a letter to House GOP members in which he references the "pillars."
In the letter, he explains some of the changes he plans on bringing to the way the House runs:
If I am fortunate enough to serve as Speaker of the House, we will run a much different kind of Congress – one that is humbler, more transparent, and respects the will and intelligence of the people.  No bill will come to a vote unless Americans have had at least three days to read it first.  We will put an end to so-called "comprehensive" bills rushed through Congress without scrutiny or debate.  We will eliminate rules that make cutting wasteful spending hard and increasing spending too easy.  We will lead a legislature that gauges productivity not by the size of the bills we produce, but by our success in remaining faithful to the will of the people we represent and serve.
NPR's Audie Cornish put together an informative piece about Boehner which leaves the impression that, if nothing else, he's a survivor. Which is pretty much the way you need to be if you were one of 12 children and worked as a youth in the family business — a bar.
As Audie notes, Boehner has worked with Democrats in the past, notably the liberal Rep. George Miller, when they both were members of the House Education Committee. He referred to that experience in a speech he gave at the American Enterprise Institute in September.
An excerpt from the Web story that accompanied Audie's All Things Considered piece on Wednesday.
"Now no one is going to confuse me and George Miller for ideological soul mates — I think most of you get that," Boehner said in his AEI speech. "But in just a few years, we were able to work together to transform our committee from a backwater panel that nobody wanted to be on to the center of some of the biggest issues of the day."

One of those issues was the committee's negotiation of the controversial No Child Left Behind legislation in 2001. It was a high-profile bipartisan moment that's all but a distant memory now. These days Boehner routinely dismisses Democrats' proposals — often before they are formally announced.
And it would surprise many observers if his tendency to dismiss Democratic proposals changed when he becomes speaker.
By the way, an example of Boehner's ability to survive would be the way he deftly distanced himself from his support in September 2008 of the Troubled Asset Relief Program.
Boehner pleaded for House Republicans to vote for that government bailout in a famous House speech.
But then Boehner became an opponent of bailouts, including TARP specifically.
On Election Night he said:
"Of course, this campaign is not yet over. To folks out in the West, where the polls are still open, seize this opportunity to be heard, to reject the spending sprees, the bailouts, the backroom deals, the takeovers and all the nonsense and to join your fellow Americans in putting Washington on notice.
The Hill notes that Boehner and Obama don't have much of a relationship. The president, of course, probably hasn't done himself any favors with Boehner by openly joking about the Republican's skin color (some call it orangey) which some people have suspected results from tanning beds.
The Hill reports.
Obama and Boehner share a fondness for golf and cigarettes, but beyond frequent verbal broadsides and the occasional lighthearted quip, the two have never really connected, according to allies of the Republican leader.
Considering the men are likely to spend many of their waking moments over the next two years plotting to undo each other, it's doubtful they'll be getting much closer.