Rahm Emanuel Grilled At Chicago Residency Hearing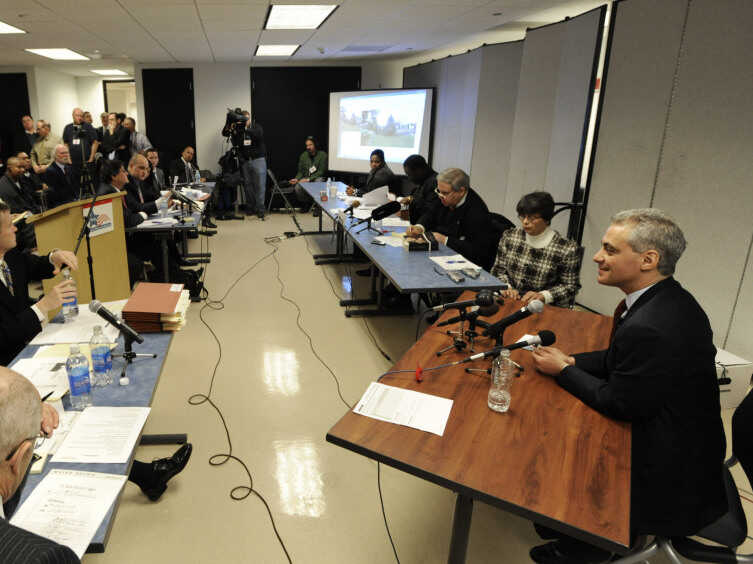 Rahm Emanuel used to be the one to put people on the spot when he was White House chief of staff to President Barack Obama.
It was his turn Tuesday on the hot seat. The man who would be mayor of Chicago was at a Chicago Board of Election Commissioners hearing to defend his eligibility to run for that office.
He was peppered with questions from lawyers and ordinary citizens and asked to explain how he could possibly meet the requirement that a candidate maintain residency in the city for at least a year before being able to get on the ballot.
Emanuel and his wife had rented their Chicago house to a couple and had essentially moved to Washington for his White House job.
The Chicago Tribune reported that Emanuel brought his sense of humor to the hearing:
Chicago activists objecting to Rahm Emanuel's run for mayor hit him with some off-the-wall questions and offered a few statements of indignation this afternoon as they stepped into the spotlight at a crowded election board hearing.

After sometimes tedious questioning this morning by a veteran election lawyer aimed at determining whether Emanuel meets the residency requirement of living in Chicago for one year before the February mayor's race, some of the more than 20 citizens trying to knock him off the ballot got their shot at the former White House chief of staff.

"You had a job in D.C., was it a 9 to 5?," asked Paul McKinley, who wore a T-shirt that read "Robert Taylor, where I'm from" in reference to the notorious public housing project.

"I used to joke on Friday that there were two more days left until Monday," Emanuel said. "It was a 24/7 job."
And this from the Chicago Sun-Times:
Odelson even showed Emanuel photos of every room in the house on a display screen, asking Emanuel to confirm each room and whether the furniture that had been in that room was moved to Washington, D.C.

Odelson clicked up a picture of a room with stoves, faucets and a kitchen table.

"That room is the kitchen?" Odelson asked.

"Very good, Mr. Odelson," Emanuel said to laughter from the crowd gathered in the hearing room in downtown Chicago.