Last World War I Vet Should Get Capitol Rotunda Honor: Bob Dole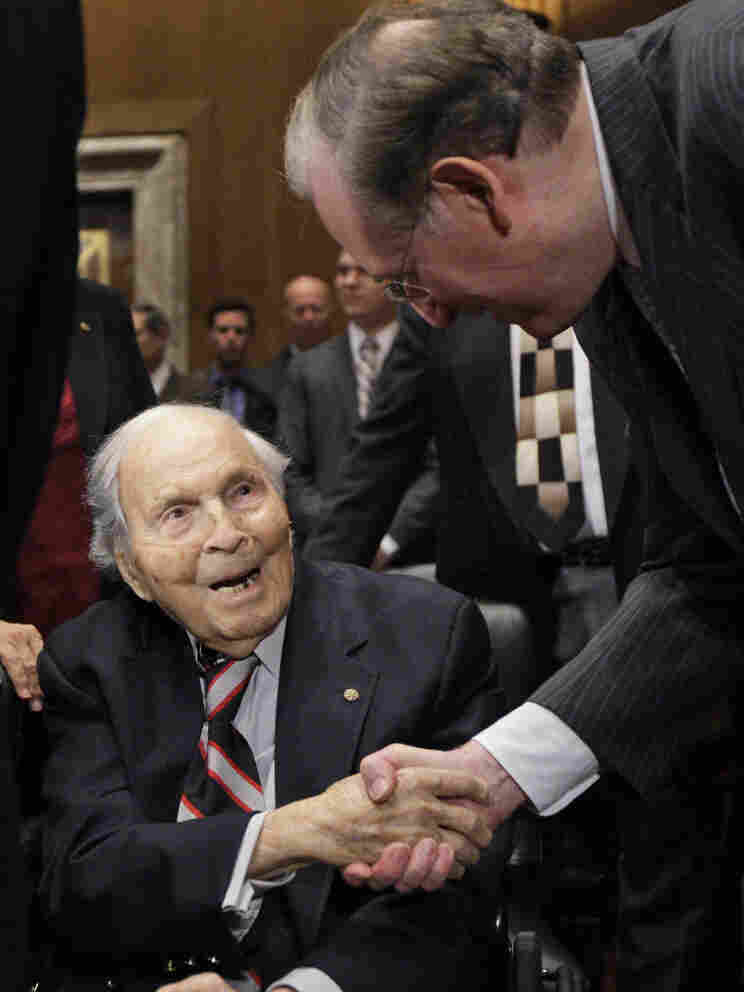 Alex Brandon/ASSOCIATED PRESS
Frank Buckles, who until his recent death at age 110 was the last surviving World War I veteran, has Bob Dole, the former Republican senator and presidential nominee, adding his voice to those who want to give his remains the honor of lying in the Capitol Rotunda.
Katy Kiely of the National Journal interviewed Dole. An excerpt:
"It's the end of an era, so to speak," Dole told National Journal. "It was a war that changed the world, in effect, and it should be recognized. I hope and I think it is going to happen."
Dole is hard to ignore. Not only was he once a respected major figure in his party and the U.S. Senate, he's also a World War II veteran who bears the visible wounds of war, namely a withered and paralyzed right arm.
As has been reported, Buckles' family and West Virginia's two senators would like Buckles to lie in honor in the U.S. Capitol as the last veteran of the War To End All Wars.
But their requests have so far not been answered positively by House Speaker John Boehner (R-OH) and Senate Majority Leader Sen. Harry Reid (D-NV).
The honor of a Capitol Rotunda ceremony has been reserved for presidents, and some senior military officers and lawmakers whose contributions to the nation are considered worthy of the such recognition. The remains of unknown soldiers from the two world wars and the Korean conflict also received the honor.
There is the occasional outlier, like Rosa Parks, the Civil Rights heroine but, again, that's the exception. The Architect of the Capitol has a list.
Both congressional leaders have said they would ask that Buckles be given a special Arlington National Cemetery ceremony. His family intends to have Buckles, who also fought in World War II, buried at that national cemetery near the Pentagon in Northern Virginia.
The New York Times reports that Buckles family has the old veteran's body at a funeral home as they await what they hope will be a change of heart from Boehner and Reid.
By the time a politician gets to be leader of one of the chambers on Capitol Hill, he or she has been pressured in any number of ways. But this seems a unique form of pressure.