Democrat Kate Hochul: Ryan's Medicare Plan Gave Her An Opening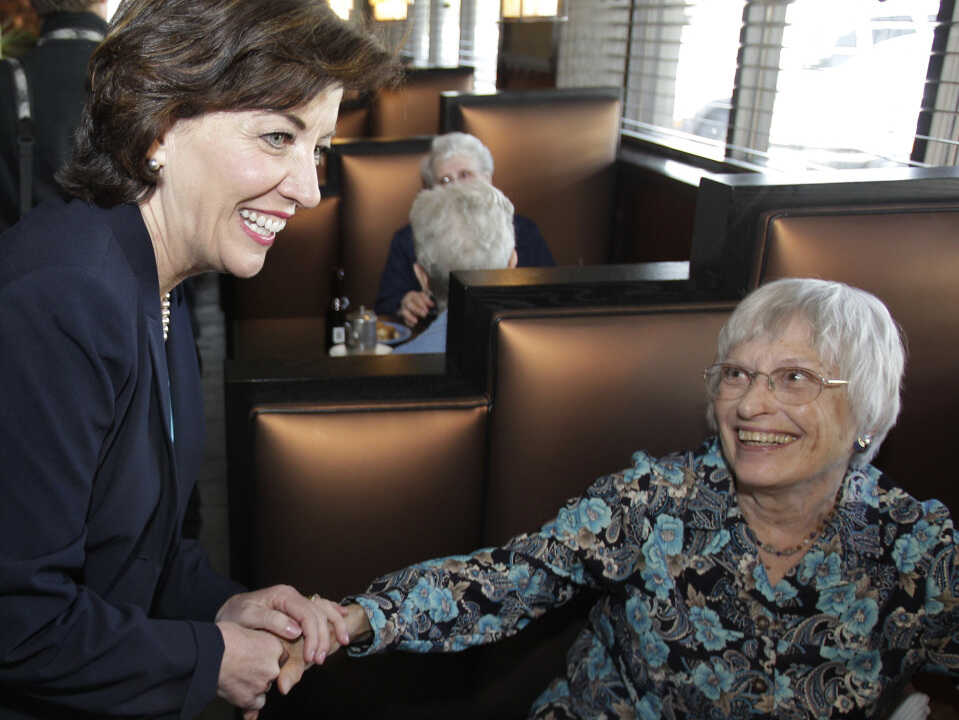 Kathy Hochul, the Democrat who upset Republican hopes to hang onto a congressional seat in western New York state the GOP has held for decades, certainly appreciates the voters of her district who voted for her.
In an interview with Michel Martin, host of NPR's Tell Me More, also readily apparent was her appreciation for the budget proposal to privatize Medicare by Rep. Paul Ryan, the Wisconsin Republican who chairs the House Budget Committee.
Ryan's controversial proposal is credited with putting Republicans on the defensive and encouraging Democrats who think they have an issue which will have traction with voters, Hochul included.
"We certainly did use the Ryan budget as an opportunity to show the very clear cut difference between the candidates.
"And the Ryan budget gave us an opportunity to talk about Medicare but also other priorities in that budget such as tax breaks that continue for the wealthiest people in this country. We weren't afraid to open up that budget and show people the difference.

"When my opponent (Republican Jane Corwin) said, had she been in Congress she would have voted for it, it just gave us an opportunity to say, you know what? We wouldn't have done that and here's why. That resonated very much with people in this district and regardless of party label, they've embraced this message."
Hochul dismissed GOP claims that she won because it was a three-way race:
"Well I think the Buffalo News today very much clarified that."
It was an allusion to an editorial by that news outlet that suggested that Jack Davis, a Tea Party, third-party candidate who had run for the seat repeatedly in the past as a Democrat, might have hurt Hochul as much as her Corwin.
Hochul continued:
"(The Buffalo News) said that's what Republicans want to say. And there was time in the polls when Jack was taking 20 -22 percent of the vote.

"But when Jack Davis started losing votes, they were coming my way, they were not going to Jane Corwin as they expected. All I know is I won because I got more votes. Everyone else can interpret what they will. But it's real simple to me that a lot of people put their faith in me. I take that very seriously and I know I'm representing a majority Republican district now."
Hochul has served as the Erie County Clerk, which includes the city of Buffalo, since January 2007. The election results show that she won a majority of that county, with 53 percent of the vote, a strong showing in a three-way race.
She did less well in the more rural counties of the district which Corwin more or less won. Hochul said a big task was getting known in those counties.
I think people knew me in part of the district. But my challenge was to get much better known in the rural outlying areas where they had never heard of me before. I knew if I could just take my message on the road and I spent a tremendous amount of time literally pulling up to little businesses on the main streets and walking in, introduing myself, stopping in diners whereever I saw three or more cars.

I really tried to have a personal touch to the race as well because we were really outspent. i was running against two multimillionaires. I had to break it down on the grassroots level. A lot of people had to go out on a limb, there were many, many people who said I was the first Democrat they had ever voted for.
As the Buffalo News editorial also noted, Hochul's moment could prove just that:
It's hard to say how long Hochul will be around to fix Social Security and Medicare. It is a Republican district, after all, and even worse for Hochul, one that could be liquidated by redistricting before the 2012 elections.