Florida Gov. Rick Scott's Tanking Polls Lead to Charm Offensive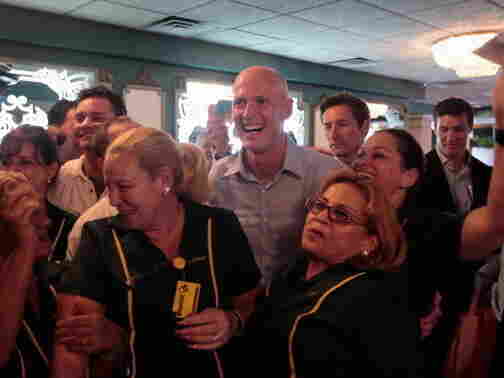 Florida Gov. Rick Scott is spending his summer trying win back some friends.
After the political newcomer spent his first few months in office pushing through policy changes, avoiding the press and watching his approval ratings nose dive, he's launched a multi-city charm offensive, dropping in on local television newscasts, taking questions from editorial boards and even serving doughnuts to voters.
Scott sat down Friday with WUSF in Tampa, a station that's part of NPR's policy reporting project, StateImpact Florida. Reporters asked the governor about the acrimonious legislative session in which Scott ushered in radical changes — many in the area of education.
Scott, on new education mandates:
We've gotta figure out how to do better. So if you look at the things we did with regard to education, we did things that should help our kids. Getting rid of tenure. Means principals now should be able to get rid of bad teachers. Starting the process of merit pay. So we've gotta make sure we have the funding for merit pay.
But funding is the open question. Florida is reducing the amount of money being sent to school districts at the same time Scott and the Legislature have instituted new reforms and mandates.