Can Obama Stay On Spending-Cut Highway If Most Voters Want To Exit?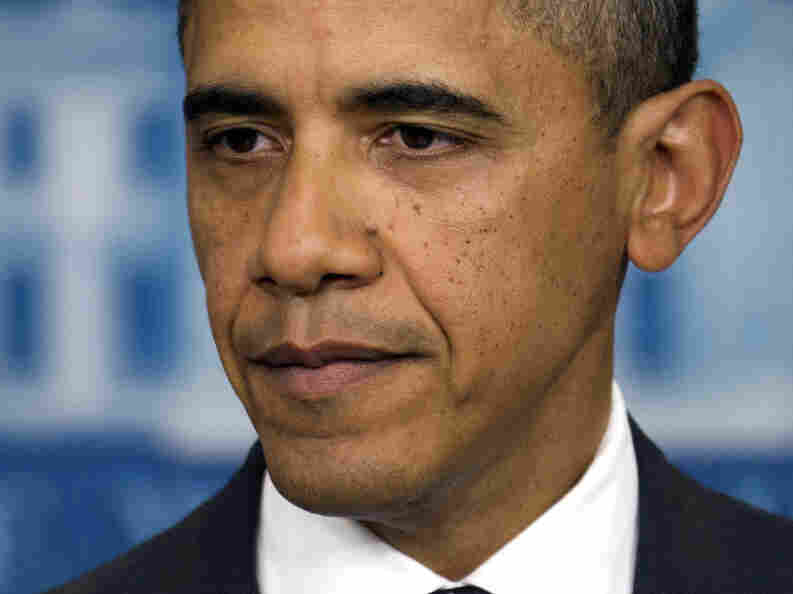 President Obama sounded adamant Monday evening that the automatic cuts scheduled to take effect in 2013 after the congressional supercommittee failed to reach a deficit-reduction pact should happen.
"There will be no easy off ramps on this one," he said in the White House briefing room shortly after the supercommittee's co-chairs issued a statement saying they had abandoned hope for any agreement.
But what if the American people want an easy off ramp? Will the president still be able to hang tough?
That question is suggested by a new poll commissioned by United Technologies and National Journal which found that 61 percent of those surveyed wanted Congress to undo the automatic cuts while only 26 percent wanted them to occur.
Mind you, it's at 61 percent before the lobbying and marketing efforts that are even now gearing up have even had a chance to work their magic. And there are 13 months to go.
After a year of trade and advocacy groups spelling out the doomsday sure to come if the deep cuts in domestic and military spending happen, it's difficult to see how that six out of ten ratio drops starts tilting the president's way, assuming it's an accurate read of where the public now stands.
And if that's the case, how does the president stick to his line that there will be no escape from the sequestration cuts? That would be difficult for him to do even if it weren't an election year. But 2012 is such a year and it was already promising to be a difficult one for him because of the economy.
Perhaps the only way out for him is to bring the public around to his way of thinking. But that's clearly going to be a monumental task given this poll result and the massive forces that will be arrayed against him.
Still, there could be some political upside for him. It allows the president to portray himself as more of a deficit hawk than some of his opponents and not the big-spending liberal they accuse him being. That's not insignificant.
Since Mitt Romney, the likely Republican nominee, has already signaled that he intends to make cutting domestic federal spending a major campaign issue, Obama's position on the sequestration cuts, that they must go forward, could help to even the playing field.