Romney To Relive Olympic Glory As Campaign Grasps For Gold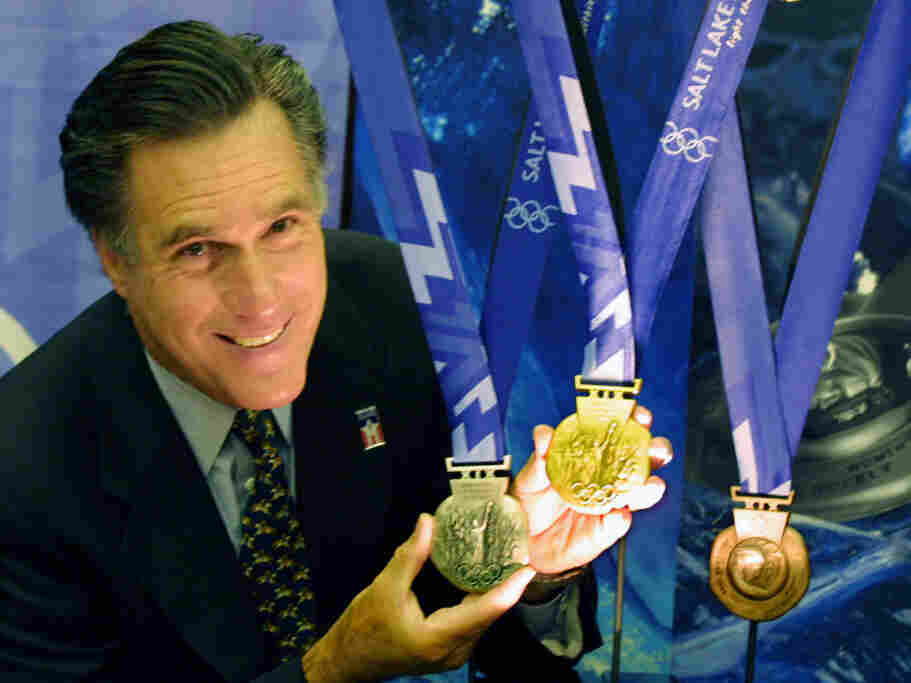 George Frey/AFP/Getty Images
The five Olympic rings have been like halos for Mitt Romney — and he gets to bask in their glow again this weekend.
Utah is celebrating the 10th anniversary of the 2002 Salt Lake City Olympics, which Romney claims credit for rescuing. A Saturday night gala at the Olympic figure skating venue features medalists Sarah Hughes, Sasha Cohen and the pairs 2002 champions — Jamie Sale and David Pelletier.
And right there with them — though presumably not in sequins and tights, or out on the ice — will be the man brought in to manage the Salt Lake Olympics in the wake of a bribery scandal, a fundraising freeze, and congressional and federal criminal investigations.
Romney has a key role as the main speaker at the event, where he can bathe in the Olympic spotlight again, just as his campaign is struggling to regain footing. National polls, recent caucuses and primaries, and polling out of his home state of Michigan show the Republican front-runner status slipping from Romney's grasp.
Roberto Schmidt/AFP/Getty Images
"It is absolutely a credential he should utilize," said Fraser Bullock, Romney's chief operating and financial officer for the Olympics and a former partner at Bain Capital. "Because of his extraordinary leadership, we had the most successful Olympic Winter Games here in Salt Lake."
That's not just best buddy hype. The United States and International Olympic Committees and even cynical journalists marveled at the organizational success of the 2002 Games, especially in the wake of the Sept. 11 terrorist attacks five months earlier.
During the buildup to the Olympics, there was none of the flip-flopping critics accuse Romney of in his later role as governor of Massachusetts, or as a presidential candidate. The effort to organize the games was focused and consistent. Romney restored confidence among corporate sponsors and imposed fiscal discipline, erasing a $400 million budget deficit.
But there is a famous "flip." Romney allegedly used the F-word during an Olympic traffic jam, which resulted in the production of an unofficial Olympic pin featuring a red-faced Romney saying "Flip!" — Utah's sanitized version of the expletive.
Some believe Romney accepted the Olympic job knowing it would give him a national platform and boost his flailing political career. In fact, the Olympic cauldron in Salt Lake City had barely cooled when Romney returned to Massachusetts and announced his ultimately successful campaign for governor.
Fraser Bullock says Romney never mentioned any political ambitions until a few months before the Olympics.
Courtesy of Ken Bullock

Courtesy of Ken Bullock

Courtesy of Ken Bullock

Courtesy of Ken Bullock

Courtesy of Ken Bullock

Courtesy of Ken Bullock

Courtesy of aroundtherings.com
That doesn't convince Ken Bullock, a Salt Lake Organizing Committee board member, who is no relation to Fraser Bullock. "Everyone had a role, and everyone had a contribution to make, and everyone deserves credit, including Mitt," Ken Bullock says. "But so does everyone else, and he vastly, greatly overstates his role in this."
But Bullock was virtually alone in publicly questioning Romney's image as the savior of the Olympics — until now.
On Friday, the Democratic National Committee attacked federal spending on the Olympics and blamed Romney for the "most expensive games in U.S. history." The campaign of Republican rival Rick Santorum accused Romney of using the Olympics to gain millions in federal earmarks for projects not needed for the games, including the complete rebuilding of a major freeway and a light-rail system.
But at the time, the federal liaison for Salt Lake Olympic organizers openly told NPR and others that expensive federal infrastructure projects were not related to the Olympics, were not necessary for the games and were not sought by Romney or his staff.
In fact, state and local politicians and members of the Utah congressional delegation used the Olympics to leverage federal spending for projects not connected to the games. That process began long before Romney was named CEO of the Olympic committee.
After the Sept. 11 attacks, federal spending for Olympic security mushroomed. There were concerns that the Olympics presented a tantalizing target for terrorists.
Saturday's Olympic gala follows a reunion of Salt Lake Olympic staffers, and Romney is the star attraction.
Neither event is political, says the Romney campaign. Still, there may be more to be gained politically, on this particular Saturday, from basking in the glory of the Olympics than in kissing babies in Arizona or Michigan, where the next big primary challenges for Romney will be held.
There are also campaign dollars to be gained and big donors to thank. On Friday night, Romney is scheduled to appear at a fundraiser at a Salt Lake City hotel; and Saturday morning, big donors from Utah and the rest of the West get thanked at a private breakfast.
Utah has been one of Romney's biggest and most reliable sources of campaign cash. Most Utah voters share with Romney membership in the Mormon Church. And many in Utah believe the Olympics left the world feeling warm and fuzzy about the place.
Perhaps Romney and his campaign are hoping that some of that Olympic euphoria will rub off on voters elsewhere. It's clear Democrats and at least one Republican opponent are determined to diminish any Olympic bump.
Update at 8:14 p.m. ET: Romney Campaign Responds
The Romney campaign has just issued a statement in response to the criticisms about Olympic spending.
It addresses federal security spending for the 2002 Winter Olympics but not the federal dollars spent for infrastructure and transportation projects also included in the criticism by the Democratic National Committee and Rick Santorum.
"The majority of federal funds for the Salt Lake Games was for security purposes — funds required by federal, state, and local law enforcement to perform security," says Romney spokeswoman Andrea Saul. "The Games occurred just months after 9/11, and security was heightened."
Saul also says, "taxpayer support of the Games was only 18 percent, enabled by Mitt Romney's ability to secure new corporate sponsorships to bring the taxpayer tab down."